That They Lived: : African Americans Who Changed the World
In February 2017, Rochelle Riley was reading Twitter posts and came across a series of black-and-white photos of four-year-old Lola dressed up as different African American women who had made history. Rochelle was immediately smitten. She was so proud to see this little girl so powerfully honor the struggle and achievement of women several decades her senior. Rochelle reached out to Lola's mom, Cristi Smith-Jones, and asked to pair her writing with Smith-Jones's incredible photographs for a book. The goal? To teach children on the cusp of puberty that they could be anything they aspired to be, that every famous person was once a child who, in some cases, overcame great obstacles to achieve.
That They Lived: African Americans Who Changed the World features Riley's grandson, Caleb, and Lola photographed in timeless black and white, dressed as important individuals such as business owners, educators, civil rights leaders, and artists, alongside detailed biographies that begin with the figures as young children who had the same ambitions, fears, strengths, and obstacles facing them that readers today may still experience. Muhammad Ali's bike was stolen when he was twelve years old and the police officer he reported the crime to suggested he learn how to fight before he caught up with the thief. Bessie Coleman, the first African American female aviator, collected and washed her neighbors' dirty laundry so she could raise enough money for college. When Duke Ellington was seven years old, he preferred playing baseball to attending the piano lessons his mom had arranged.
That They Lived fills in gaps in the history that American children have been taught for generations. For African American children, it will prove that they are more than descendants of the enslaved. For all children, it will show that every child can achieve great things and work together to make the world a better place for all.
---
That They Lived is an instant classic. Words and images, the past and the future, weave back and forth in a stunningly original children's book, until we see and hear the American Dream becoming an American reality as the young people depicted—and the young people reading—come to know their history and their power. People of all ages will enjoy this brilliant, necessary, charming, and inspiring volume. Parents and teachers will find inspirations for endless activities inspired by these pages.</blockquote

– Alice Randall, professor of African-American children's literature at Vanderbilt University and author of The Diary of B. B. Bright, Possible Princess (winner of the Phillis Wheatley Book Award) and Black Bottom Saints

It is true that children can only become what they see. That They Lived provides that window on the world of African Americans who achieved greatness, often against the odds. Riley's words combined with Smith-Jones's beautiful and touching photography make these history-makers accessible for children and adults alike.

– Terri Lee Freeman, president, National Civil Rights Museum

That They Lived transforms Frederick Douglass from a historical figure into a courageous soul who helped turn the nation against slavery. Aretha Franklin is no longer just a voice but a young woman who overcame tragedy and prejudice on her way to success. That They Lived makes the stories of these courageous African Americans come alive, making it possible for young people of all colors to see how they, too, can change the world.

– Jerry Mitchell, author of Race Against Time

There is no other book about African American lives like That They Lived. Riley and Smith-Jones have revisited twenty-one historic figures to demonstrate that whatever fame or greatness one achieves, everyone was a child once. How wonderful to learn of the childhoods of icons from Douglass to Obama, Wells to Hamer, and so many more. The book gleams with the sheer variety of black life and ambition. The photographs are magic. This is for young readers, but really for all of us since we all came from somewhere.

– David W. Blight, Yale University, author of Pulitzer Prize–winning Frederick Douglass: Prophet of Freedom
---
Signed copies of That They Lived will be filled until stock runs out. Thank you for your support!
---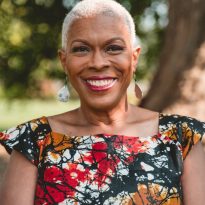 Rochelle Riley is Director of Arts and Culture for the city of Detroit. The author, essayist, and arts advocate ended a nearly twenty-year stint in 2019 as a columnist for the Detroit Free Press, where she was an award-winning voice for children and advocate for improved education, government, and race relations. She is editor of The Burden: African Americans and the Enduring Impact of Slavery (Wayne State University Press, 2018). She calls herself "a writer by trade, warrior by necessity."
Cristi Smith-Jones is a stay-at-home mom turned amateur photographer, who lives with her husband and daughters, Lola and Eden (and their cat, dog, and chickens) in Kent, WA. She enjoys finding creative ways to bring art and history to life for her girls and dedicates her efforts at documenting history to her grandmother, Mary Smith, who died in 2019. "She was the first African-American woman to change MY world," Cristi says.
Author website: https://www.rochelleriley.com/
$ 16.99