 Guglielmo Pluschow : Nude Couple Taormina, 1890s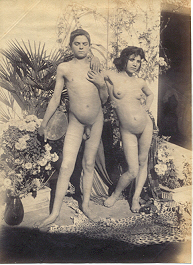 Nude Couple Taormina is a photo taken on the island of Taormina, Italy by Guglielmo Pluschow, circa late 1890s, vintage albumen print, artist name stamped on reverse, Roma — a wonderful study, rich warm tones, classical pose, light wave only noticeable in raked light, left hand corner crease visible, approx 8×7″ trimmed to the edge, reverse shows some album debris. Images of nude couples are scarce.
Ploschow worked on the island of Taormina with his cousin Wilhelm Von Gloedon, and Vincenzo Galdi. The images they produced are considered to be a landmark, for the beginning of the homosexual photograph. Their work has been celebrated around the world, collected and studied for its artistic beauty, erotic nature, and relationship to classical and romantic paintings.
Pluschow was arrested May 1907, for his portrayal of a nude minor twelve-year old boy, after which he "converted" to photographing landscapes. He never stopped producing the erotic images, but learned to be discreet.
Pluschow's work gained widespread attention through regular appearances in art photography magazines, popularized ethnological works, and forums of the emerging homosexual liberation movement. Guglielmo Pluschow died in Rome, in 1930.
Most of his work was distributed as small editioned photo postcards. Large albumen veiws such as the one pictured are scarce.
$ 2,700.00