Detroit Fairy Tales
"Detroit Fairy Tales is a stunner of a book … Elisa Sinnett has summoned a glittering darkness, bleak, beautiful, mesmerizing and utterly unforgettable."
— JUNOT DÍAZ, PULITZER PRIZE WINNING AUTHOR OF THE BRIEF WONDROUS LIFE OF OSCAR WAO
"Clear-eyed heartfelt smart staccato funny terrible: Detroit Fairy Tales is all of this, and Elisa Sinnett's voice is a wonder."
— KATHE KOJA, AWARD WINNING AUTHOR OF THE CIPHER, UNDER THE POPPY, AND DARK FACTORY
"A stunning collection by an exciting new voice in experimental memoir, Elisa Sinnett's Detroit Fairy Tales is a devastating love letter to the indomitable soul of a grand American city—a soul that can never be foreclosed or gentrified. What is remembered lives. And long live Detroit in Sinnett's powerful debut."
— —ARIEL GORE, AUTHOR OF THE END OF EVE, WINNER OF THE NEW MEXICO ARIZONA BOOK AWARD, AND FOUNDER OF HIP MAMA MAGAZINE
Detroit Fairy Tales is a work of autobiographical fiction—or "speculative memoir"—that explores the lives of one struggling family with deep roots in their one-of-a-kind city. In the spirit of Bastard out of Carolina and The Glass Castle, Detroit Fairy Tales is part a coming of age story and part an exploration of how trauma can reverberate through four generations. Hopeful, yet raw and unflinching, thirty-six vignettes tie together like a work of jazz to create a single, one of a kind work. Along the way, Detroit Fairy Tales challenges assumptions while it peels back the layers of love, trauma, hope, and resignation that is at the root of this not unusual American family.
Elisa and her five sisters are born and raised in the wealthy University District of Detroit where she longs to not stick out as a poor white kid. She is born with a "hole in her chest," a rare medical condition. That is but the first of a lifetime of struggles, as Elisa and her sisters must navigate a family clouded by life-defining tragedies that echo through the generations. The six girls make their own ways through a labyrinth of race, class, gender, mental illness, and sexual and domestic violence, each finding their escape, some with more success than others. Like everyone, Elisa does what she can, making the best choices she knows how to. And in the end, she must find her own peace and end the cycle of family secrets.
Detroit Fairy Tales is a breathtaking story—never sensational, always honest and unexpected.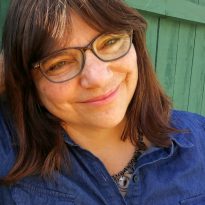 Elisa Sinnett is an immigrant to the middle class and was dismayed to discover shortly after her arrival that it was being dismantled. She enjoys life on her severely curtailed teacher's salary and is a member of the American Federation of Teachers. She lives in Windsor, Ontario, with her family across the river from her original hometown of Detroit, Michigan. She admires writers, dreamers, activists and fellow teachers who are hanging in there for public education.
Selections of her book Detroit Fairy Tales have been published in and/or recognized by YesYes Books, Hipmamazine, Mutha Magazine, The Woven Tale Press, Penduline Press, Glimmer Train, Stealing Time Magazine and Friends Journal. Detroit Fairy Tales is her first book publication. www.elisasinnett.com.
$ 18.00