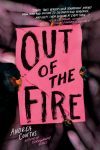 Tuesday December 7, 2022 @ 7 PM Celebrate the virtual launch of OUT OF THE FIRE by Andrea Contos. Andrea will be in conversation with Kara Thomas (That Weekend) Watch the event live on Youtube! here:https://youtu.be/PzN77kDkWA8
Buy a special signed & "Stamped with Fire" book at: OUT OF THE FIRE – each book will come with a unique holographic sticker and Stamped with Fire bookmark!
We were like fire, the four of us. Catching each other's sparks until the flames grew, spread, raged beyond our control.

They told us this would happen. They said it like a warning rather than a promise.

But we promised. We promised each other.
It wasn't the kidnapping that ruined Cass Adams's life. It was the letters that came after. Every pink envelope that appears in her car, her locker, her bedroom — every word from the man she escaped, is a constant reminder that he's always there, always watching. It's enough to make Cass withdraw from everyone and everything she's ever loved.
But then Cass discovers that her former best friend, Margot, is being blackmailed by her ex-boyfriend, who's threatening to expose the nude pictures she sent him. Cass is way too familiar with the helplessness Margot feels, so she offers her a proposal: stop being afraid and start getting revenge.
When two other classmates overhear their unholy alliance, Cass and Margot's team of two becomes four, and together, the girls set out to levy justice against the men who wronged them. But soon, the letters from Cass's kidnapper begin to include clues on how to do just that, along with hints that the reason for Cass's kidnapping may be more dangerous than she ever imagined.
Now, achieving the retribution the girls seek — and finding the truth behind Cass's abduction — will mean trusting the person she fears most. And the man who ruined her life may be the only one who can save it.
"Andrea Contos takes readers on a triumphant and terrifying journey, from fear and solitude to solidarity and vengeance. OUT OF THE FIRE is a complex and captivating thriller that kept me guessing at every turn."
–ELLE COSIMANO, AUTHOR OF FINLAY DONOVAN IS KILLING IT
Chilling and utterly original, OUT OF THE FIRE is a fierce, hold-no-punches revenge tale as only Andrea Contos could tell it.
— KIT FRICK, AUTHOR OF I KILLED ZOE SPANOS
"There is something about the way Contos draws her characters that gets right under the skin of what it means to be a girl today–the performance the outside world demands, and the dark, secret corners of their true hearts. I could never predict where the story was going, but I knew one thing for sure: I wanted those girls to burn their world to the ground."
– KYLIE SCHACHTE, AUTHOR OF YOU'RE NEXT
An alternately poignant and action-packed revenge fantasy.
–KIRKUS REVIEWS
---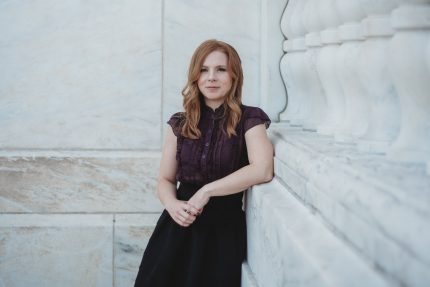 Andrea Contos is an award-winning writer of young adult mysteries and thrillers. After a childhood spent hiding beneath the covers to read books by flashlight, she obtained a degree in business, where the only writing involved legal responses and termination letters. She happily traded those for works of fiction, and she still loses far too much sleep creating and enjoying a good book.
Her sophomore book, OUT OF THE FIRE, will be published with Scholastic on December 7, 2021, as well as an untitled second book in 2022.
Her debut, THROWAWAY GIRLS, is an ITW award winner for Best Young Adult Novel, as well as a Kirkus Best Book of 2020.
Andrea is a 2021 ITW Award Winner, a Pitch Wars 2018 and 2019 Mentor, a 2017 Mentee, and a member of Society of Children's Book Writers and Illustrators.
She grew up in Detroit, and thanks to the tours given by her policeman father, she can tell you exactly where the morgue is. She currently lives outside the city with her tiny-feminist daughters, her husband, and their very fluffy cat.
---