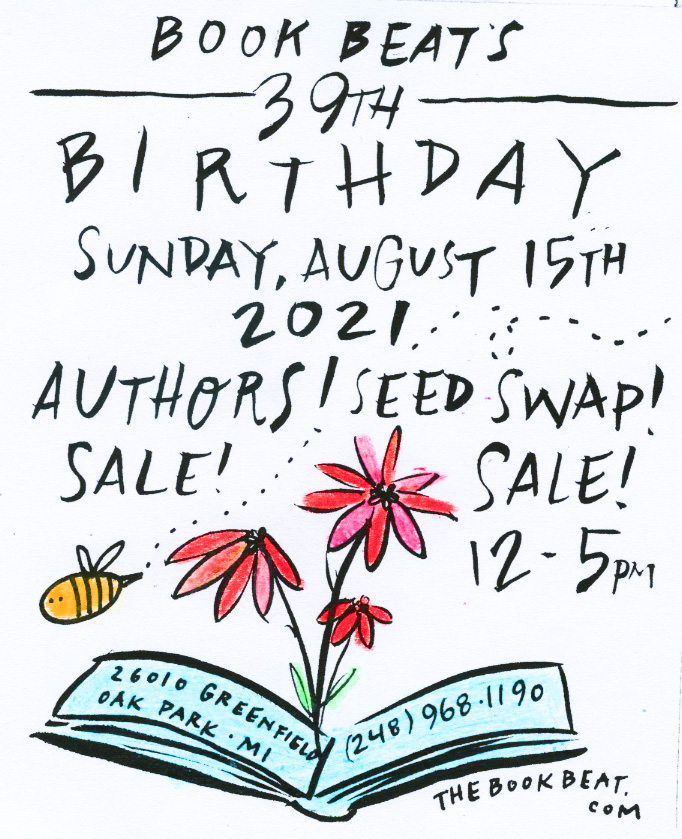 Sunday, August 15th from 12-5 PM, Book Beat will be safely celebrating it's 39th Anniversary with a party for its patrons and the community!
This party will be on a smaller scale than those we have historically planned in order to keep our customers and staff safe. There will be time and space limits indoors and masks are required. Please maintain distancing when visiting outside with authors.
• We have a variety of guest authors and artists who will be at the party to sell their books and artwork!
• There will be refreshments (cake!), a storewide book SALE* and a Seed Swap/ Plant exchange table.
• Live music at 2 PM, featuring M.L. Liebler and musician friends!
• Please feel free to bring your own seeds and plants to swap with others in the community!
• We encourage you to wear a mask outdoors during the event, but inside the store a mask is required.
*Book Sale does not include rare or out-of-print titles.
Happy Birthday Book Beat! Plant seeds…read!
Thank you for passing along this info and event link to those who might be interested. Please check our website for updates and estimated time schedule for authors.
Author Schedule:
Vicki Bell: 1-3 PM, author of the children's book, A New School for Evan
Judy Campbell: 2-4 PM, author of the children's book, But Guess What! I Can Think for Myself
Jean Alicia Elster: 1-3 PM, author of the children's books The Colored Car and Who's Jim Hines? We will also have availble a special early release ONE DAY SALE of her newest book, How It Happens, which releases officially September 14th.
Cindy Frenkel: 1:30-3:00 PM, Cindy is author of the new poetry collection, Plague of the Tender-Hearted.
Freshauna Goodman: 2-4 PM, author of the children's book, Yes, I'm Sure She's My Mom
Mary J. Grant: 2 – 4 PM, author of the children's book Moving North, her newest work, as well as My Daddy Taught Me To Read, Floyd B'd Pond, Shadows on Sunday, and My Special Jar.
Deborah Hochberg: 1-3 PM, author of the poetry collection, Waiting for the Snow
Shelley Johannes: 1-3 PM, author of the children's picture book, More Than Sunny and the chapter book mini-series, Beatrice Zinker, Upside-down Thinker Vol. 1-3
Stephen Mack Jones [TBA], author of the Detroit crime series; August Snow, Lives Laid Away and his latest book: Dead of Winter
Supriya Kelkar 12- 12:45 PM. Award winning children's author and illustrator Supriya Kelkar will be autographing store stock including her newest titles; That Thing About Bollywood, Bindus Bindis, and Strong as Fire, Fierce as Flame.
M.L. Liebler 2-4 PM: M.L. Liebler is an educator, poet, and editor of the books: RESPECT: The Poetry of Detroit Music and Heaven Was Detroit: From Jazz to Hip-Hop and Beyond
Rick Lieder: 12-2 PM. Rick Lieder is the photographer of the children's books:Hello, I'm Here, Wake Up!, Among a Thousand Fireflies, Sweep Up the Sun, and Step Gently Out.
Roohee Marshall: 2-4 PM, Roohee is the author of A Generation Found: Precious Pearls of Wisdom.
Amy Nielander: 1-3 PM, Amy is the author of the children's books, Grama's Hug and The Ladybug Race
Sandra Novacek: 2-4 PM, is author of the new children's book, Charles's Bridge.
Lisa Rose: 2-4 PM, is author of the children's books; The Singer and the Scientist and A Zombie Vacation
Leni Sinclair 2-4 PM: Leni is the photographer and subject of Motor City Underground: Photographs 1963-1978. Leni will also be selling her photos at the event.
John Sinclair, 2-4 PM, poet, activist, and author of The John Sinclair Reader, Guitar Army, Peyotemind, and his latest book of poetry: Always Know: A Book of Monk
Elisa Sinnett: 1-3 PM, is the author of Detroit Fairy Tales an autobiographical novel on growing up in 1970s Detroit.
Tom Stoye [time TBA] is a photographer and creator of three new photo zines on the graffitti culture of Southwest Detroit.
Peter Werbe: 1-2:30 PM author of Summer on Fire: A Detroit Novel
Artists and Other Vendors:
Chelsea Lisiecki from Carosello Farms and Steelhead Press in Pinckney, Michigan will bring organic pasta, organic veggies and native plants from her farm plus fine art prints based on natural subjects.
Laura Grimshaw: Gary Grimshaw rock n' roll posters and rock memorabilia.
Marcia Hovland: whimsical and magical ceramic creations…gifts for yourself or others!
Wendy Sample: laser-cut wooden holiday ornaments, cards, and maybe more!
Leni SInclair will be selling her photographs of Detroit musicians.