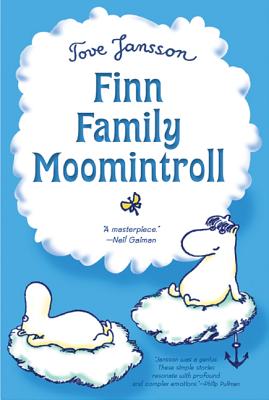 The Book Beat has a new reading group! The Summer Family Reading group is free and appropriate for ages 6 and up. Our meeting will be Wednesday, August 18, at 6:30 PM. This will be a virtual Zoom meeting. Our summer family reading book is: Finn Family Moomintroll by Tove Jansson, also an excellent read-aloud book.
If you'd like to participate, register now at Eventbrite,or send us your name and email and we will register you. A reminder email will be sent to you on the morning of the meeting on Aug. 18.
Finn Family Moomintroll is available now at Book Beat or at our affiliate store online at Bookshop. Purchasing books from us is not a requirement, but we appreciate your support.
I love this book, and all the other Moomin adventures, because they are exciting and the characters are very well described. The way Tove Jansson, the Finnish author, writes about Moominvalley just makes you want to live there!

The Moomins are little creatures who live in a beautiful valley and are always having adventures together. One day, Moomintroll (a young Moomin), his friend Sniff (a small creature that looks a bit like a kangaroo) and Snufkin (a mysterious traveller who lives with Moomintroll and Sniff), find a Hobgoblin's magic hat on top of a hill. It creates total havoc in Moominvalley, making many strange things happen.

Following this, the Moomin Family, Sniff and Snufkin go by boat to an island belonging to strange, ghostlike creatures called 'hattifatteners' and get into a pickle.

Later on we meet Thingummy and Bob, funny little twins who go everywhere together and talk a topsy-turvy language that switches the beginning letters of words around (selicious doup for delicious soup and drilky mink for milky drink). They bring a fabulous jewel: The Kings Ruby. The King's Ruby proves to be very important.

Tove Jansson created the most spectacular adventures for the Moomins and friends, and I think anyone over six would very much enjoy the series." –The Guardian
---
Tove Jansson (1914–2001) was born in Helsinki into Finland's Swedish-speaking minority. Her father was a sculptor and her mother a graphic designer and illustrator. Winters were spent in the family's art-filled studio and summers in a fisherman's cottage in the Pellinge archipelago, a setting that would later figure in Jansson's writing for adults and children. Jansson loved books as a child and set out from an early age to be an artist. Her first illustration was published when she was fifteen years old; four years later a picture book appeared under a pseudonym. After attending art schools in both Stockholm and Paris, she returned to Helsinki, where in the 1940s and '50s she won acclaim for her paintings and murals. From 1929 until 1953 Jansson drew humorous illustrations and political cartoons for the left-leaning anti-Fascist Finnish-Swedish magazine Garm, and it was there that what was to become Jansson's most famous creation, Moomintroll, a hippopotamus-like character with a dreamy disposition, made his first appearance. Jansson went on to write about the adventures of Moomintroll, the Moomin family, and their curious friends in a long-running comic strip and in a series of books for children that have been translated throughout the world, inspiring films, several television series, an opera, and theme parks in Finland and Japan. Jansson also wrote eleven novels and short-story collections for adults, including The Summer Book, The True Deceiver, Fair Play, and The Woman Who Borrowed Memories. In 1994 she was awarded the Prize of the Swedish Academy. Jansson and her companion, the artist Tuulikki Pietilä, continued to live part time in a cottage on the remote outer edge of Pellinge until 1991.
---
Visit Tove Jansson's world of the Moomin: Escape to Moominland
"I want to be a wild thing, not an artist." –Tove Jansson
"The unrealistic nature of these tales (which narrow-minded rationalists object to) is an important device, because it makes obvious that the fairy tales' concern is not useful information about the external world, but the inner process taking place in an individual.
–Bruno Bettelheim, The Uses of Enchantment: The Meaning and Importance of Fairy Tales
Moominland is an episodic picture-book, comic-strip, and middle-grade reader novels about fairyland adventures. Set in a magical universe, the series was created by Finnish artist-author Tove Jansson, a winner of the 1966 Hans Christian Anderson Award, an international award called: "The Nobel Prize in children's literature."