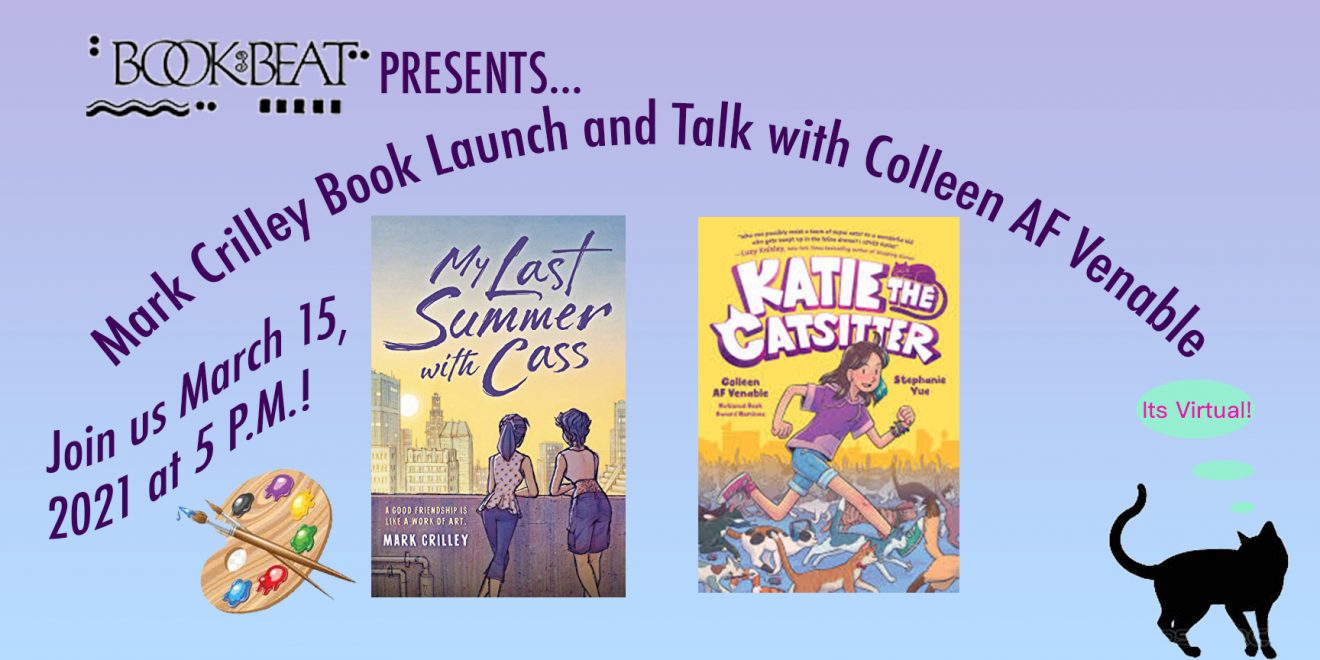 Join us on Monday, March 15, at 5 PM for a Young Adult graphic novel seminar! Graphic novelist/artist Mark Crilley will present his latest book: My Last Summer with Cass in a LIVE ZOOM event. Joining Mark in conversation will be Colleen AF Venable, author of Katie the Catsitter also out this year. Learn about graphic novels and how to create them by two of the best in the field! Signed books will be available direct from Book Beat for curbside pickup or mailing. Tickets are free and available now at YA GRAPHIC NOVEL ZOOM Eventbrite. Help us get the word out! We will also be streaming Zoom live to the Book Beat Facebook Page.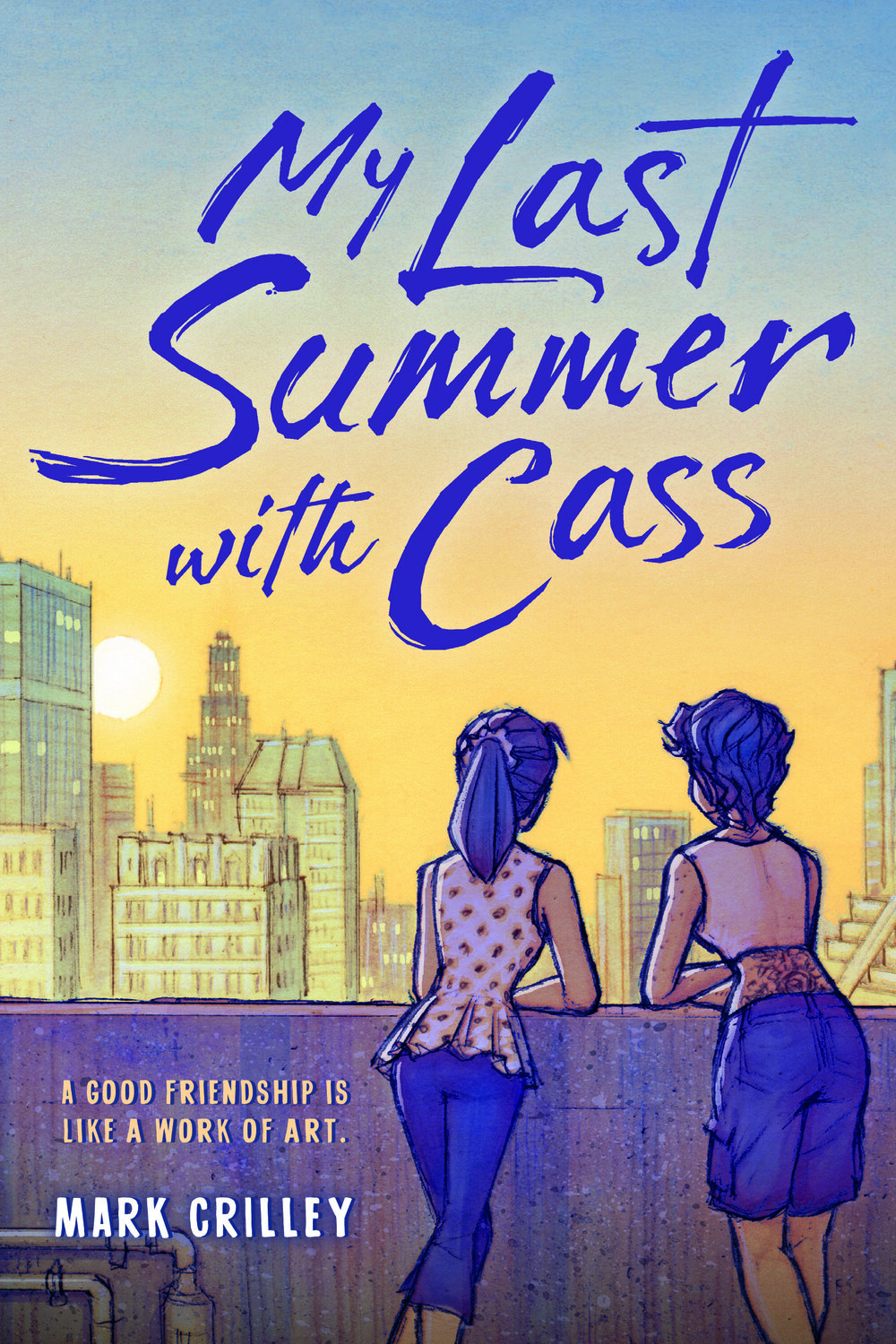 This One Summer meets The Edge of Seventeen in this poignant coming-of-age YA graphic novel about two childhood friends at a crossroads in their lives and art—from the author of Mastering Manga.
Megan and Cass grew up joined at the brush. Every year, their families vacationed together in Michigan, where the girls relaxed by the lake and created art – from scribbles as toddlers to sophisticated portraits in their teenage years. Megan was always cautious, and Cass was always rebellious. But together, each summer, they grew as artists and friends. The summer after her junior year of high school, Megan arranges to stay with Cass and her mother at their apartment in New York City. Suddenly Megan's world explodes into color. The girls begin collaborating on a piece that pushes both of their artistic boundaries, one that will be showcased in a local gallery show. But when a secret comes to light and one of them crosses a line, will their friendship be able to survive?
Support our ZOOM event with a signed copy of My Last Summer With Cass.
Mark Crilley was raised in Detroit, where he started drawing almost as soon as he could hold a pencil in his hand. After graduating from Kalamazoo College in 1988, where he was befriended by children's author David Small, he taught English in Taiwan and Japan for nearly five years. His first comic series, Akiko, was published in 1995, leading Random House to invite him to adapt it as a series of ten young reader novels. His graphic novel series, Miki Falls, was chosen by the American Library Association as one of the 2007 "Great Graphic Novels for Teens." His instructional art book, Mastering Manga, has been published in nine languages, and his 2016 graphic novel, The Drawing Lesson, marked his fourteenth Eisner nomination. Crilley's work has been featured in USA Today, Entertainment Weekly, and on CNN Headline News and Comcast On Demand, and his popular YouTube videos have been viewed more than 350 million times. He lives in Michigan with his wife, Miki, and children, Matthew and Mio.

---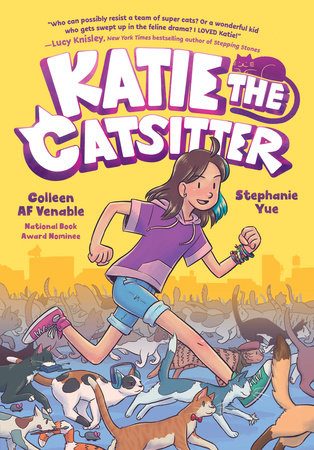 Calling all Raina Telgemeier fans! Introducing an irresistible new middle-grade graphic novel series about growing up, friendship, heroes, and cats (lots of cats!)–perfect for fans of Guts, Awkward and Real Friends (not to mention anyone who loves cats!)
Katie is dreading the boring summer ahead while her best friends are all away at camp–something that's way out of Katie and her mom's budget, UNLESS Katie can figure out a way to earn the money for camp herself. But when Katie gets a job catsitting for her mysterious upstairs neighbor, life get interesting. First, Madeline has 217 cats (!) and they're not exactly . . . normal cats. Also, why is Madeline always out EXACTLY when the city's most notorious villain commits crimes?! Is it possible that Katie's upstairs neighbor is really a super villain? Can Katie wrangle a whole lot of wayward cats, save a best friendship (why is Beth barely writing back? And who's this boy she keeps talking about?!), AND crack the biggest story in the city's history? Some heroes have capes . . . Katie has cats!
"Who can possibly resist a team of super cats? Or a wonderful kid who gets swept up in the feline drama? I loved Katie!" —Lucy Knisley, New York Times bestselling author of Stepping Stones
"Young readers will revel in the heroic antics, and older ones, like me, will be tickled by the Easter eggs strewn throughout. The sweet and funny nature of this book is expertly reflected in Yue's energetic art and seemingly effortless line work." —New York Times
"Venable's twisty plot swoops gleefully around Manhattan, touching on everything from animal activism to evolving relationships to a secret rescue mission, and combining to tell the story of one of the least boring summers ever." —BookPage
Support our ZOOM event with your purchase of Katie the Catsitter.
About Colleen AF Venable: "My whole life I always loved reading comics—Calvin and Hobbes, The Far Side, and I wore out my copy of the Muppets: Short, Green and Handsome—but it wasn't until I started to get into webcomics that I also fell in love with the idea of writing comics. Now my day job is designing graphic novels for First Second Books and my night job is writing graphic novels about a not-so-imaginary-anymore hyperactive hamster named Hamisher. I love it more than I love having feet and I really do love having feet. They keep my shoes on." –Colleen AF Venable
About the Illustrator: Stephanie Yue grew up in Atlanta, Beijing, and Hong Kong. She's a lifetime comic fan and martial artist (with a black belt in Kung Fu) and travels the world by motorbike. Stephanie was the colorist for the megahit, industry changing, Smile by Raina Telgemeier and Katie is her debut as a middle grade graphic novel illustrator. Stephanie currently divides her time between Boston and Hong Kong, where she's working on the second Katie. Visit her online at http://stephanieyue.com and on twitter @quezzie.com.