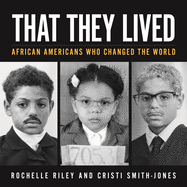 On Feb. 15, at 7 PM, local legend Rochelle Riley will present her latest book That They Lived: African Americans Who Changed the World, which tells childhood stories of men and women who achieved greatness despite overwhelming odds. To join this live ZOOM event, a ticket is required, and can be purchased online at the Metro Detroit Book and Author Society
This book talk is co-sponsored by Book Beat. After the event a book will be mailed to your home with a signed bookplate by Rochelle Riley. For more information please call: 248-968-1190.
About the Book
In February 2017, Rochelle Riley was reading Twitter posts and came across a series of black-and-white photos of four-year-old Lola dressed up as different African American women who had made history. Rochelle was immediately smitten. She was so proud to see this little girl so powerfully honor the struggle and achievement of women several decades her senior. Rochelle reached out to Lola's mom, Cristi Smith-Jones, and asked to pair her writing with Smith-Jones's incredible photographs for a book. The goal? To teach children on the cusp of puberty that they could be anything they aspired to be, that every famous person was once a child who, in some cases, overcame great obstacles to achieve.
That They Lived: African Americans Who Changed the World features Riley's grandson, Caleb, and Lola photographed in timeless black and white, dressed as important individuals such as business owners, educators, civil rights leaders, and artists, alongside detailed biographies that begin with the figures as young children who had the same ambitions, fears, strengths, and obstacles facing them that readers today may still experience. Muhammad Ali's bike was stolen when he was twelve years old and the police officer he reported the crime to suggested he learn how to fight before he caught up with the thief. Bessie Coleman, the first African American female aviator, collected and washed her neighbors' dirty laundry so she could raise enough money for college. When Duke Ellington was seven years old, he preferred playing baseball to attending the piano lessons his mom had arranged.
That They Lived fills in gaps in the history that American children have been taught for generations. For African American children, it will prove that they are more than descendants of the enslaved. For all children, it will show that every child can achieve great things and work together to make the world a better place for all.
"That They Lived is an instant classic. Words and images, the past and the future, weave back and forth in a stunningly original children's book, until we see and hear the American Dream becoming an American reality as the young people depicted—and the young people reading—come to know their history and their power. People of all ages will enjoy this brilliant, necessary, charming, and inspiring volume. Parents and teachers will find inspirations for endless activities inspired by these pages."
– Alice Randall, author of Black Bottom Saints.
"That They Lived transforms Frederick Douglass from a historical figure into a courageous soul who helped turn the nation against slavery. Aretha Franklin is no longer just a voice but a young woman who overcame tragedy and prejudice on her way to success. That They Lived makes the stories of these courageous African Americans come alive, making it possible for young people of all colors to see how they, too, can change the world."
– Jerry Mitchell, author of Race Against Time
About the Author
We're still the Paris of the Midwest. We do everything. We do it better than most places and in some cases, people outside of that acknowledge that more than we do. It's time for us to see how great we are. –Rochelle Riley, from an interview on Channel 4
Rochelle Riley is the city of Detroit's Director of Arts and Culture, having retired after 20 years as a columnist for the Detroit Free Press. The author, essayist, and arts advocate has won multiple awards including the Will Rogers Award from the National Society of Newspaper Columnists, the 2018 Lifetime Achievement Award from the Society of Professional Journalists, and the 2020 Daily Tar Heel Distinguished Alumnus award at UNC. Riley was a 2007-2008 Knight-Wallace Fellow at the University of Michigan, and was a 2016 inductee into the Michigan Journalism Hall of Fame. She was just appointed to co-chair Gov. Gretchen Whitmer's Black Leadership Advisory Council. Her new book is That They Lived: African Americans Who Changed the World, which tells childhood stories of people who achieved greatness despite overwhelming odds.
---