I read lots of what you might call World Literature, but my heart belongs to the Japanese. I've tried to recommend some of my favorites here that you wouldn't find in a Google search. –Kyle
No matter where I go in the world, although I can't speak any foreign language, I don't feel out of place. I think of earth as my home. If everyone thought this way, people might notice just how foolish international friction is and they would put an end to it.
– Akira Kurosawa, Something Like an Autobiography
Something Like an Autobiography by Akira Kurosawa
An autobiography from the master. The book is equal parts pre-war Tokyo and the golden age of Toho Studios. A must for anyone interested in cinema, but also contains a very haunting passage about Great Kanto Earthquake.
Confessions of a Yakuza by Junichi Saga
A much quieter autobiography than one would expect from the title. It's primarily about organizing gambling rings and other petty crimes, but the yakuza in question approaches his former life with a mixture of objectivity and introspection that hooks you like Knausgarrd did in My Struggle. Luckily, this book is much shorter.


One of my favorite books, and a perfect introduction to Abe, the premier Japanese post-war writer, in my humble opinion. Put simply, it's about a man who lives in a box. But the structure of the novel is crystalline, and the psychic depths rival Kafka. It was also a inspiration for the Metal Gear Solid games.
Literature is neither technique or business. It is a motive force of society, a force that is more in touch with the fundamental principles of human life. That is why we study literature.
— Natsume Soseki, Sanshiro
Sanshiro by Natsume Soseki
From what I understand, this book is a staple in Japanese schools. It's easy to see why. It's a bildungsroman somewhat akin to Catcher in the Rye, but with a deadpan sense of humor and loose plot. Like The Box Man with Abe, this is a great introduction to Soseki, a giant of Japanese literature who wrote all sorts of books. It's also a great starting point to start limning the differences between Japanese and American literature.
The Fall of Language in the Age of English by Minae Mizumura
I read this a few years ago and enjoyed it. As an American, you don't have that many opportunities to think about the supremacy of English. In fact, we tend to like it when English-language options are available. I'm curious to see how different this book would feel in light of the current crisis. No one knows if the world will become more or less connected after this, but it will certainly tilt in a different direction that it did six months ago. I wonder where language will fall on that spectrum.
Origins of Modern Japanese Literature by Kojin Karatani
For the scholar. I had to read this for a college course. There's one essay in here, 'Discovery of Landscape,' that ties in art, the self, and industrialization that is worth the price of admission.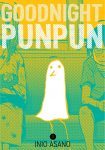 Goodnight Punpun by Inio Asano
Asano is the most interesting mangakaworking today. His style is immediately indefinable with its juxtaposition of photos and illustration. His stories, too, have a certain mark to them. They blend absurdity, slice-of-life, and trauma. Goodnight Punpun is his masterpiece. I recommend ordering at least two volumes at once. You'll want to keep reading.
The Pushman by Yoshihiro Tatsumi
Gekiga is a loose analogue to 'graphic novel.' They're typically more mature than your average manga and were most prevalent in the immediate post-war years. Tatsumi deserves the most credit for making the term popular. His stories, some of which collected in The Pushman, deal with the down and out, the impoverished, the sick. All together, they paint an evocative picture of Japan between the end of the war and the economic boom of the 1980's. As with the other books on this list, they also have a typical Japanese structure, one distinctive from the typical rise and fall plots of Western literature.
We ordinary people must forge our own beauty. We must set fire to the grayness of our labor with the art of our own lives … What is the essence of this art of living? Of course, even this art should have beauty as its essence.
–Kenji Miyazawa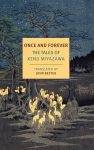 Once and Forever: The Tales of Kenji Miyazawa
Miyazawa has been described as the Japanese version of Robert Walser. I'd agree. Strange, fleeting, playful, indescribable. A beautiful edition.
The Pillow Book by Sei Shonagon
Japanese court literature is a treasure.The Pillow Book is a strange hybrid of diary and etiquette. Reading it is like looking across time. You can find echoes of contemporary life here, like human desires and emotions that are eternal, but you can also immerse yourself in the foreignness of it all. Perhaps during these times it's a good reminder that no matter what, life goes on.
Essays in Idleness and Hojoki by Kenko and Chomei
I cannot recommendHojoki highly enough. I've read this book countless times. Anything else I could say about this would be wasted breath. Buy this.
Ancient tales of strangeness, ghosts, and love.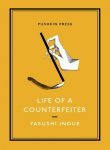 Life of a Counterfeiter by Yasushi Inoue
More post-war stuff. This is a short book. I take a lot of inspiration from Inoue in my own writing. His characters can never win, but he writes about them with a tenderness that stands apart from his more cynical contemporaries. A really nice edition, too. You'll want to buy the other two: BullfightThe Hunting Gun.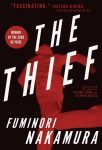 The Thief by Fuminori Nakumara
Existential crime thriller. Japanese crime novels, as you might have guessed by now, tend to be different from their American counterparts. The ones that make it into translation are often moody and brooding. The Thief is no exception. There's imagery from this book I still remember years later.
Plainsong by Kazushi Hosaka
The rare, pleasant novel where nothing happens. Just dudes hanging out.
In the Miso Soup by Ryu Murakami
Usually, whenever someone recommends Ryu Murakami, they say something along the lines of 'You've heard about Haruki, now try this.' An unfair comparison. He deserves to be read on his own terms. He's most famously known for writing the book that inspired the movie Audition, and many of his other works follow a similar dark and seedy vein. He's tough to find in-print these days, so snatch him up while you can. He'll make you laugh and squirm, but his attitude stands alone.
Kinshu by Teru Miyamoto
Kinshu, I think, is what most people want when they read Japanese literature. It's understated and beautiful, like an Ozu film put to paper.
Then she told me about a philosopher who said that observation is at its core an expression of love which doesn't get caught up in sentiment.
— Takashi Hiraide, The Guest Cat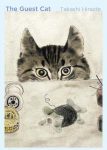 The Guest Cat by Takashi Hirade
When I still worked at Book Beat, this was my most recommended (and most sold!) book. There's nothing else like it. Ostensibly, it's about a couple in Tokyo who become partial to an alley cat. But in its slim number of pages, it moves between theories of poetics, death, grief, ownership, and physics. Really incredible. You'll want to read it multiple times.
No Longer Human by Junji Ito
A graphic adaption of a classic novel by Osamu Dazai. Lovecraftian horror and human despair put to page. I recommend reading anything by Ito, but this is a double whammy. For the morbidly curious, Dazai infamously committed suicide shortly after finishing the book.
The Tale of Genji by Murasaki Shikibu
The world's first novel. You won't have anything else to do for a while. Why not read it just to say you did? There's a reason it's still in print after 1,000 (!) years. Superb Translation.
Kyle Callert is a writer and former manager of Book Beat. He recently returned from a trip to Japan during the time of quarantine, and has shared some of his photos in the gallery below. Books from Kyle's review can be found at Book Beat or online at: Bookshop.org