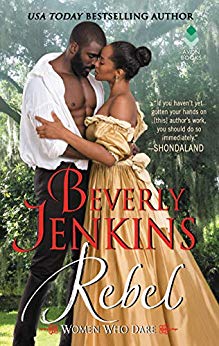 Romance superstar author and Detroit native Beverly Jenkins will return to Book Beat on Saturday, June 22nd from 2-4pm to sign copies of her bestselling books and to promote her latest release, Rebel. Books will be available for signing and purchase at the event. If you have any questions or would like to reserve any of her titles, please call Book Beat at (248) 968-1190. This event is free and open to the public. Book Beat is located at 26010 Greenfield Rd, Oak Park, MI 48237.
---
"Jenkins's dialogue crackles …" — Publishers Weekly
"Beverly Jenkins has reached romance superstardom ."
– Detroit Free Press
"Jenkins's sassy heroines, well drawn secondary characters and seamless incorporation of black history result in a fresh, winning historical." — Publishers Weekly
"Premier writer Jenkins delivers a thrilling, sensual novel that brims over with history, passion and, most of all, her signature wit and unforgettable characters." — Romantic Times
Beverly Jenkins is the recipient of the 2018 Michigan Author Award, the 2017 Romance Writers of America Nora Roberts Lifetime Achievement Award, as well as the 2016 Romantic Times Reviewers' Choice Award for historical romance. She has been nominated for the NAACP Image Award in Literature, was featured both in the documentary "Love Between the Covers" and on CBS Sunday Morning. Since the publication of Night Song in 1994, she has been leading the charge for multicultural romance, and has been a constant darling of reviewers, fans, and her peers alike, garnering accolades for her work from the likes of The Wall Street Journal, People Magazine, and NPR.
Jenkins is the nation's premier writer of African American historical romance fiction and specializes in 19th century African American life. She has 30 published novels to date, including: Second Time Sweeter, Bring on the Blessings, A Wish and A Prayer, Night Song, Indigo, A Second Helping, Jewel, Something Old and Something New, Vivid, and Midnight, among many others.
She has received numerous awards, including: five Waldenbooks/Borders Group Best Sellers Awards; two Career Achievement Awards from Romantic Times Magazine; a Golden Pen Award from the Black Writer's Guild, and in 1999 was named one of the Top Fifty Favorite African-American writers of the 20th Century by AABLC, the nation's largest on-line African-American book club.
She has lectured and given talks at such prestigious universities as Oberlin University, the University of Illinois, and Princeton. She speaks widely on both romance and 19th century African-American history.