Part One: Boofland and Detroit Low-fi TV
Boofland Babylon was a 2015 art installation produced by ArtX (and the Kresge Foundation) and created by Cary Loren and Michael Zadoorian. The inspiration for the display was a photograph taken by Michael's father, Norman Zadoorian; a 1962 Thanksgiving Day parade float, sculpted as a giant television set. The photograph depicts Norman's son Michael on top of the float, standing inside the TV among a group of Detroit children's television hosts, including; Captain Jolly, Poop-deck Paul, Milky the Clown, Ricki the Clown and Canadians Larry Sands and Jerry Booth who created the Boofland show, an alt-universe of puppets, giants and Jingle-the-Jester who lived in a fantasy castle.
Boofland was a cheap variety show of sing-alongs, puppets, a cardboard castle set and starred Jingles, a balladeer jester played by Jerry Booth. The show was a surrealistic set with puppets as local natives, all slightly deformed sad creatures. It was a parallel world to the Soupy Sales show, produced in the early sixties and utterly mesmerizing. A day was incomplete without watching it. Boofland was completely out there; a castle floating in the clouds, a whimsical escape with giants, dragons, and magical rabbits residing in a set of cardboard, paper mache and glitter. An off-kilter dream with each show ending with a loyalty song refrain.
"Oh Boofland, my Boofland/ Let us always sing/ And have some fun with Cecil B./ Herkimer and Jing/ No matter how big I get/ No matter where I go-go-go/ I'll always watch my TV set/ For the Jingles show."
Boofland was also a physical fantasy vacationland, founded by Booth in 1960, similar to a low-budget Disneyland situated on the edge of Windsor Ontario in Canada, just across the Detroit river. After six months it burned down in a fire.
In the '50s and '60s, Detroit youth were raised on a steady diet of Popeye, Tex Avery, Looney Tunes, Flash Gordon, Tarzan and Three Stooges episodes. Wixie in Wonderland (1948) on WXYZ-TV was one of the first shows nationwide to screen cartoons, and starred Marv Welch as Wixie-the-Pixie, who in the evening was a local X-rated night club entertainer. Wixie set the standard that would be followed in many variety cartoon shows aimed at children.
In early '60s Detroit, Soupy Sales was the undisputed king of daytime TV. His show was pure vaudeville, with borscht-belt humor and an odd assortment of puppets. Giant dog puppets: White-tooth and Black-Fang, and Pookie the sassy Lion were all played by Soupy's sidekick Frank Natasi. The Soupy show had a subversive edge that made it conspiratorial viewing. If Soupy told you to have tomato soup or a peanut butter and jelly sandwich for lunch–that's exactly what you'd eat.
In the late fifties on Saturday nights at 11:30 PM, Shock Theater would begin with creepy Doctor X reciting, "Lock your doors, close your windows, and dim your lights. Prepare for Shock." Then his face would dissolve into a screaming skull or hypnotic eyeball to begin the monster film feast. The skull and op effects scared the hell out me. The opening was so frightful and psychotic I rarely could stay up for the movie. For a few years after Shock Theater, Detroit was home to Morgus the Magnificent, a mad scientist who was also an afternoon weatherman. I was enamored with Morgus and started my own mad-scientist club. Detroit was filled with character actors who played horror and cartoon hosts -the unsung heroes and presenters of the insatiable low budget fare we became addicted to.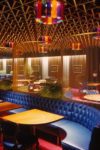 The foundation of the Boofland installation is not only TV culture but also the landscape of Detroit; the scenic views of mid-century modernism captured by Norman Zadoorian's square format Rollie. Northland: the first suburban shopping center captured on opening day in 1954, Bob-lo Island: the amusement rides and cotton candy parades. Strange atomic-age restaurants in day-glow colors. Santa's sleigh up in the sky at the Hudson's Thanksgiving Day parade. The Auto show. The Car Wash. The working class and the expanding suburban hinterlands. Norm's Mid-century photographs are the "hidden exhibition" from the basement, a behind-the-scene sideshow hidden behind the cut-out faces of pop culture. The exhibit is discovered slowly, like found treasures dug up from the root cellar. Norm's world was the backyard suburban dream we now call Tiki culture; a mixture of Martin Denny lounge music, Easter Island South Pacific pop-Primitiva and exotica. A plastic utopia of survival invented out of the destruction of war.
Zadoorian's photography is presented as a pyramid, like steps along the Aztec avenue of the dead: Teotihuacan, the sun pyramid of youthful promise beneath the valley of industrial exploitation and waste. Foundational and ancient memories hold up the spiritual, non-material, and imaginative banners of the past and future. The Thanksgiving Day banner sits at the top of the pyramid, a childhood vision of kitsch-wonderland. The banner is part castle/Boofland set and part TV; a life-sized TV that one could walk through and into, merging with our iconic heroes; Jingles, Milky the Clown, Riki the Clown, Captain Jolly, Poop-deck Paul, and Sagebrush Shorty, a TV vision more real and compelling than reality.
The power of these derelict television memories are like Proust's ephemeral 'madeleines', a symbol of the past that rises unintentionally. They are virtual dreamlands with little evidence of their reality left behind. Only a few photographs and perhaps seconds of screen time exist. These minor celebrities were mountainous in the minds of children, but their creations were erased, considered ephemeral junk-food for the mind. Nothing has been saved of these media hosts except memory, and they are cherished for that fragile intangible nature; memories transportable to a time of childhood happiness and security.
The Boofland Babylon installation is a Detroit-centric memory piece, a scrapbook loosely based on the structure of the Beatles' Sgt. Pepper album. Life sized figures of Detroit icons were cut out and served as a kind of rogues-gallery tableau to pop-media idolatry.
This basic concept was embellished and transformed by our personal histories along with visual, musical and sound commercials from the '50s-'70s, wired by a random computer program and small hidden speakers placed beside the cut-out figures. The design is loosely organized by sacred geometry and includes supplemental displays of our childhood collections that draw on ephemeral memories of growing up in Detroit.
Zadoorian and I expanded our thoughts on Boofland Babylon in a small booklet, containing several short essays and a self-interview along with a small gallery of images by Norman Zadoorian. The book was published during the exhibition in 2015, and can now be downloaded as a free PDF file here: BOOFLAND BABYLON GUIDE BOOK V5
Part Two: Experience Regained; The Nature Banner or Mescaline Spirit
"The moss is slippery, though there's been no rain
The pine sings, but there's no wind.
Who can leap the world's ties
And sit with me among the white clouds?" –Gary Snyder, Riprap and Cold Mountain Poems
During the summer of 1969, I hitchhiked with my friend Tim Burton to the most northern tip of Michigan: White Fish Point — a desolate rugged area on the shores of Lake Superior. We camped on the beach and awoke to fresh blueberries growing in the sand around us. We hiked through miles of a solid birch-tree forest, sparkling white above a bed of bright green ferns.
We finally met up with Tim's older brother Eric and his girlfriend. Our guidebook over that summer was Gary Snyder's Riprap and Cold Mountain Poems, a manual for buddhist meditation and the solitude of pure thought.
One night (it may've been the coldness or rain) Tim and I dragged our sleeping bags into Eric's woody station-wagon. Sometime in the night we awoke to something shaking the car. Metallic scratching across the hood and door. A few seconds latter Eric and his girlfriend pounding on the door to let them in. A black bear had attacked their tent and was just outside the car.
We camped our way across the United States and stayed for almost a week at Lake Solitude, a seven mile hike at the center of the Teton mountains.
More than any experience, that trip was my key to the world of nature and of Thoreau's journey. We slept outdoors, seeing the sky clear as a pool with shooting stars streaking across space. We followed Route 66 and the old beat worn trail west. Cold Mountain was an idea that lived in our minds. Nature became a spiritual unity we shared that one magical summer.
The Burton family owned an A-frame cottage on an isolated Michigan lake. Around that lake in high school I made films and where Tim and I tripped on mescaline sulfate, a psychedelic chemical substance made in the basement by a local neighborhood guru-genius.
Tim spent his trip swinging Tarzan style across the treetops. A ballet of strength and pure nerve. I stared into a fire, playing ragas on guitar with Steve Milgrom. Later that evening, Tim played chess with his father. I sat watching him amazed. The mescal trip was another seminal step, an opening into music, light and unity –a foundational step into cosmic awareness.
The central image on the Boofland nature banner illustrates our Cold Mountain trip; the self-portrait camping group gorging on a road-side feast of corn and plums is us. The white birch forest re-created in the background. Beneath that is the Black Bear, a symbol of destruction and chaos, nature run a-muck. Water and earth surround the banner and cascade across dimensions of liquid childhood; monster model building, Mighty Mouse cartoons, The Addams Family, Vernor's ginger-ale and Jane Mansfield water-bottle sex mysteries. The run-on waterfall comes to rest at the Detroit river, daylight and earth, finally at home.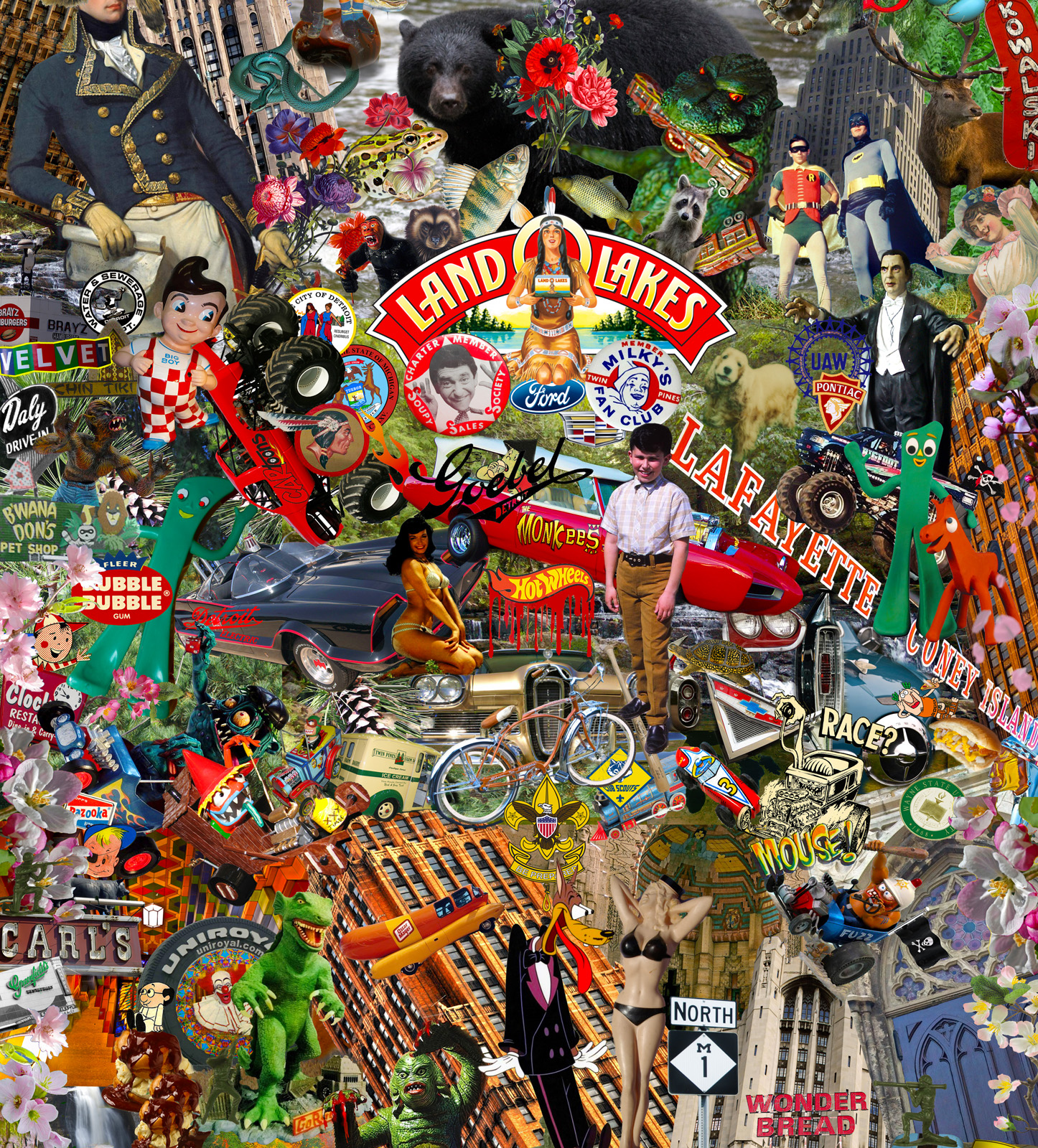 The sides of the Nature banner depict the food, nourishment and landmarks that sustained us during our youthful discoveries; The Clock, B'Wana Don's pet shop, Big Boys, Faygo and Towne Club sodas, Hamtramck, Wig-Wam, Bray's Burgers and other sacred places of reverence…
A portrait of Michael Zadoorian is juxtaposed centrally beside the Monkee-mobile, a Pontiac GTO modified for the 1966 Television show band the Monkees. A large part of Michael Zadoorian's youth was also spent camping. His family trailer is depicted in the top right corner of the banner, cruising by Route-66 roadside attractions that would inspire his later writings, especially his novel:The Leisure Seekers, later made into a motion picture staring Helen Merrill and Donald Sutherland.
Part Three: Air & Fire, a combustion of mind.
"The soldier above all others prays for peace, for it is the soldier who must suffer and bear the deepest wounds and scars of war." –Douglas MacArthur
"Fire & Air", a spirit banner is imaginary play, cartoons, radio airwaves, comics, airships, Night sky, space exploration, horror, objects and characters floating, an imaginary, non-physical heaven and hell. WWII firefights, Buddhist dream world with cupids and angels. Backgrounds made of gumball tokens, marbles, toy cars, other collections. Hypnotic sound waves, transitional and illusion, the physical made spirit. There was some effort to categorize the comics and cartoons as spirit centers, for example; Atom Ant, Mighty Mouse and other 'flying' creatures share the space with angels and buddhas — occupying a higher realm of light and radio waves.
The Spirit banner also contains radio transmissions and deals with electricity. As Detroit Edison was Norman Zadoorian's employer they are also represented by the "Sparky" logo in the mid-section. Electricity charges the spirit into music and rock 'n roll.
The pillar that distributes thought and imaginary games, the light that melts into industrial warfare, flows downward as General MacArthur steps onto the beach of Leyte, Philippines, a site where Norman Zadoorian was wounded and sent home.
Some of the darkest and most disturbing "noirish" photographs were taken on the streets of Detroit, soon after Norman's discharge. Fire bombs litter the sky bursting with cartoon characters, figures of pure imagination, a show of dominance, violence and pomp. The post-war boomer 'comic' landscape emerging from bombs and the hell of war. An inheritance of absurdity and media information overload provided us with a balance of generosity and utmost love given to us by the 'greatest generation', who fought and slayed fascism and the tyrant Adolf Hitler.
–Cary Loren, 2015, revised 2019