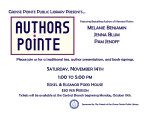 The Friends of Grosse Pointe Library present Authors to the Pointe at the Edsel & Eleanor Ford House (1100 Lake Shore Road, Grosse Pointe Shores) on Saturday, November 14th from 1:00 to 5:00 p.m.
Authors to the Pointe features three bestselling historical fiction authors, all of who will speak and sign their books. A poster for the event can be downloaded here.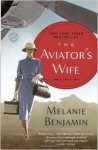 Melanie Benjamin is the author of Alice I Have Been, The Autobiography of Mrs. Tom Thumb, The Aviator's Wife, and, most recently, The Swans of Fifth Avenue. Booklist has said of The Aviator's Wife: "Fictional biography at its finest."
Vivid and mesmerizing, The Aviator's Wife takes us behind the scenes and into the heart of the woman who loved and married Charles Lindbergh. That was her destiny—a life that took her soaring into the skies and then plunged her to earth, a story of both triumph and pain that will take your breath away."
   —Kate Alcott, Author of The Dressmaker
Melanie Benjamin's previous historical novels include the national bestseller ALICE I HAVE BEEN, about Alice Liddell, the inspiration for Alice in Wonderland, and THE AUTOBIOGRAPHY OF MRS. TOM THUMB, the story of 32-inch-tall Lavinia Warren Stratton, a star during the Gilded Age. Her novels have been translated in over ten languages, featured in national magazines such as "Good Housekeeping," "People," and "Entertainment Weekly," and optioned for film. Her website can be found here.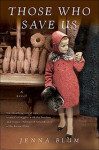 "Blum, who worked for Steven Spielberg's Shoah Foundation, takes a direct, unsentimental look at the Holocaust in her first novel. The narrative alternates between the present-day story of Trudy, a history professor at a Minneapolis university collecting oral histories of WWII survivors (both German and Jewish), and that of her aged but once beautiful German mother, Anna, who left her country when she married an American soldier…. Blum paints a subtle, nuanced portrait of the Obersturmführer, complicating his sordid cruelty with more delicate facets of his personality. Ultimately, present and past overlap with a shocking yet believable coincidence. Blum's spare imagery is nightmarish and intimate, imbuing familiar panoramas of Nazi atrocity with stark new power. This is a poised, hair-raising debut." –Publisher's Weekly
"Anna's story is a gripping mystery in a page-turner that raises universal questions of shame, guilt, and personal responsibility." –Booklist
Jenna Blum is the author of Those Who Save Us and The Storm Chasers. She has been named one of Oprah's 30 Favorite Women Writers and her two novels have been international bestsellers. Her website can be found here.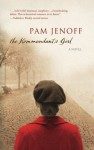 …a beautiful story of love and redemption.
~ Kristin Hannah, #1 NYT Bestselling Author of The Nightingale
…When it comes to bringing an era to life, this author has no peer. It's a powerful, moving drama of love, loss and redemption–heartbreaking, authentic and ultimately uplifting.
~ Susan Wiggs, #1 NYT Bestselling Author
…a tender, surprising romance, all in the shadow of World War II. A warm and heartfelt story of emotional survival.
~ Diane Chamberlain, Bestselling Author of The Silent Sister
Pam Jenoff is the author of The Kommandant's Girl, The Winter Guest, The Diplomat's Wife, among many others. The Kommandant's Girl was nominated for a Quill Prize and Publisher's Weekly called it "..luminous simplicity…This is historical romance at its finest." Her website can be found here.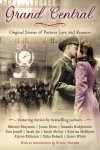 All three authors are featured in the historical fiction anthology Grand Central.
Authors on the Pointe tickets are $30 and are available at the Grosse Pointe Central Library (10 Kercheval Avenue, Grosse Pointe Farms, MI 48236) and can be purchased by either cash or check. Admission includes a traditional tea . Please be advised that space is limited.
Books Beats will be providing and selling books at the event. If you would like to order ahead or reserve books, please call the store at (248) 968-1190.