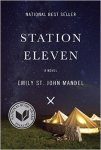 Our Reading Group selection for July is Station Eleven by Emily St. John Mandel. Station Eleven is a 2015 Michigan Notable Book selection and was a finalist for the National Book Award. The Reading Group will meet on Wednesday, July 29 at 7:00pm in the Goldfish Teahouse (117 W 4th St #101, Royal Oak, MI 48067). There will also be an additional in-store reading group meeting on Friday, July 31 as part of our special Blue Moon Celebration & Sale.  Reading Group books are discounted 15% at Book Beat. All are welcome!
"It's hard to imagine a novel more perfectly suited, in both form and content, to this literary moment. Station Eleven, if we were to talk about it in our usual way, would seem like a book that combines high culture and low culture—"literary fiction" and "genre fiction." But those categories aren't really adequate to describe the book" —The New Yorker
"Kirsten Raymonde will never forget the night Arthur Leander, the famous Hollywood actor, had a heart attack on stage during a production of King Lear. That was the night when a devastating flu pandemic arrived in the city, and within weeks, civilization as we know it came to an end.
Twenty years later, Kirsten moves between the settlements of the altered world with a small troupe of actors and musicians. They call themselves The Traveling Symphony, and they have dedicated themselves to keeping the remnants of art and humanity alive. But when they arrive in St. Deborah by the Water, they encounter a violent prophet who will threaten the tiny band's existence. And as the story takes off, moving back and forth in time, and vividly depicting life before and after the pandemic, the strange twist of fate that connects them all will be revealed."
"A superb novel . . . [that] leaves us not fearful for the end of the word but appreciative of the grace of everyday existence." —San Francisco Chronicle 

Listen to an NPR interview with Emily St. John Mandel here.
Emily St. John Mandel was born and raised on the west coast of British Columbia, Canada. She is the author of four novels, most recently Station Eleven, which was a finalist for a National Book Award and the PEN/Faulkner Award, and won the 2015 Arthur C. Clarke Award. A previous novel, The Singer's Gun, was the 2014 winner of the Prix Mystere de la Critique in France. Her short fiction and essays have been anthologized in numerous collections, including Best American Mystery Stories 2013. She is a staff writer for The Millions. She lives in New York City with her husband.