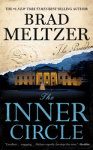 Join us on Monday, June 22 wth the New York Times #1 best-selling author Brad Meltzer as part of 2015's Everyone's Reading program. Mr. Meltzer will be at the Jewish Community Center's Handelman Hall (6600 West Maple Road, West Bloomfield, MI 48322) at 7:00pm to discuss his work, focusing on the bestselling books in his Culper Ring series: The Inner Circle, The Fifth Assassin, and The President's Shadow (Coming June 16, 2015). A limited number of free tickets will be available for West Bloomfield and contract community cardholders. For more information about ticket availability, call the Library Information Desk at (248) 232-2290. Books will be available for sale at the event courtesy of Book Beat.
His newest thriller, The President's Shadow, opens with this simple idea: One morning in the White House Rose Garden, the First Lady uncovers a severed arm buried in the dirt. How did the arm get there? How'd they get past security? And most important, what's the secret puzzle that's hidden in the hand? You won't believe the answer.
"Numerous plot strands, multiple narrative perspectives, divided loyalties, a Devil's Island labor-camp nightmare from the past, and a psychotic killer add up to another chilling adventure from plotmaster Meltzer. A strong addition to the genre and a sure bet for the David Baldacci and James Grippando set, this is a high-energy page-turner, full of shocking violence and unrelenting peril: a stay-up-all-night nail-biter."–Booklist
"Fans of historical conspiracy fiction will find a lot to like."– Publishers Weekly
"Clearly a history buff of the highest order, Meltzer knows his stuff, and he's included research from chats with none other than President George H.W. Bush….Beecher's got the mental acumen of Robert Langdon and the gumption of Indiana Jones, but unlike those globe-trotting types, Meltzer's protagonist is thrown into adventures made in the USA and acts as an awesome gateway into the deadlier aspects of American history." —USA Today on The Fifth Assassin
Brad Meltzer's TED TALK on what a legacy is: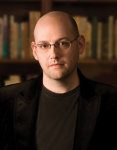 Brad Meltzer is the author of the #1 New York Times bestsellers The Inner Circle, The Book of Fate, and six other bestselling thrillers. His nonfiction books, Heroes for My Son and Heroes for My Daughter, were also New York Times bestsellers. He is the host of the History Channel series Brad Meltzer's Decoded and the Eisner Award-winning writer of Justice League of America. A graduate of the University of Michigan and Columbia Law School, he currently lives in Florida. You can find much more about him at www.BradMeltzer.com. You can also see what he's doing right now at Facebook.com/bradmeltzer and Twitter.com/bradmeltzer.
Everyone's Reading is a community wide reading program sponsored by metro Detroit public libraries in Oakland and Wayne counties. Now in its fourteenth year, Everyone's Reading promotes community dialogue through the shared experience of reading and discussing the same book. Additional programming, ranging from book discussion groups to an author talk, is offered to enhance the reading experience.