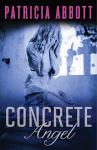 Author Patricia Abbott (mother of Edgar award-winning author Megan Abbott) will hold the launch party for her debut novel Concrete Angel at Book Beat (26010 Greenfield Rd., Oak Park, MI 48237) on Sunday, June 7 at 3:00pm. She will be speaking as well as signing copies of her book. Books will be available for sale at the event, which is free and open to the public. For more information or to reserve copies, please call Book Beat (248) 968-1190.
An atmospheric, eagerly awaited debut novel, Concrete Angel centers around a family torn apart by a mother straight out of "Mommie Dearest", and her resilient young daughter who discovers that survival can mean fighting the closest evil imaginable.
"(An) enthralling, dark debut novel…It's a potent and at times poignant combination. Those who enjoy suspenseful, atmospheric family drama will find much to love here."
—Library Journal (starred review)
"With cool, compelling prose, Concrete Angel reveals the menace that lurks beneath a mother's charming facade. An absorbing novel by an unusually fine writer."
—Meg Gardiner, Edgar Award-winning author of THE MEMORY COLLECTOR
"CONCRETE ANGEL is debut novelist Patti Abbott's exquisitely rendered character study of a manipulative mother over two decades. Eve is a woman obsessed – but how will our narrator, Eve's only daughter, respond as her childhood innocence is taken away? Abbott exhibits a pitch-perfect precision with both language and setting in capturing the tragic world of a mid-century Pennsylvania family." —Edgar Award-winning author Naomi Hirahara
Patricia Abbott is the author of more than 100 stories in print, online, and in various anthologies, including Needle Mag, The Thrilling Detective, Plots With Guns, Spinetingler, and ThugLit. In 2009 she won a Derringer Award for her story My Hero. She is the author of two ebooks of stories: Monkey Justice and Home Invasion (through Snubnose Press). She is the coeditor of Discount Noir (Unteed Reads). She makes her home in Detroit.