The Book Beat will be closed on Memorial Day, May 25th.

Author and comics artist Nick Sousanis will appear at Book Beat on Tuesday, May 26 at 7pm to promote his bold and innovative new graphic work, Unflattening. He will be speaking as well as signing copies of his book. To reserve a copy or for more information, call Book Beat (248) 968-1190.
"Sousanis has made a profound contribution to the field of comics studies and to semiotics, epistemology, and the burgeoning study of visible thinking. Essential reading for anyone seeking to create, critique, or consider the visual narrative form."- Publisher's Weekly, starred review
Book Beat's Reading Group selection for May is Selected Stories by Stefan Zweig.  The Reading Group will meet on Wednesday, May 27th at 7pm in the Goldfish Teahouse (117 W 4th St #101, Royal Oak, MI 48067). Books are discounted 15% at Book Beat. All are welcome!
"Touching and delightful. Those adjectives are not meant as faint praise. Zweig may be especially appealing now because rather than being a progenitor of big ideas, he was a serious entertainer, and an ardent and careful observer of habits, foibles, passions and mistakes." — A.O. Scott, The New York Times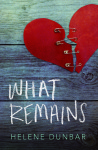 Join us at the Oak Park Library (14200 Oak Park Blvd, Oak Park, MI 48237) on Sunday, May 31 from 1:30-2:30pm to welcome author Helene Dunbar, who will be promoting her latest young adult novel, What Remains. She will be speaking along with signing copies of her work. This event is free and open to the public. Books will be available for sale at the event courtesy of Book Beat. To reserve copies or for more information, call Book Beat (248) 968-1190.