The Book Beat's Reading Group selection for April is The Swallows of Kabul by Yasmina Khadra. The Reading Group will meet on Wednesday, April 22nd  at 7:00pm in the Goldfish Teahouse (117 W 4th St #101, Royal Oak, MI 48067). Reading Group books are discounted 15% at Book Beat. All are welcome!
Join us at the Scarab Club (217 Farnsworth St, Detroit, MI 48202) on Sunday, April 26 from 2:00-3:30pm to welcome Angela Flournoy, debut author of The Turner House., a powerful epic novel about family set in Detroit. She will be speaking and signing copies of her work. This event is free and open to the public. Books will be available for sale at the event courtesy of Book Beat. For further information or to reserve a copy of the book, please call Book Beat (248) 968-1190. This event is co-sponsored by Book Beat, the Scarab Club, and the Detroit Chapter of the Women's National Book Association.
"An expansive and ambitious novel that descends through the generations of one family's history to achieve real poignancy and power." –T.C. BOYLE
On Thursday, April 30 from 11:30am-3:00pm, The Community House (380 South Bates St., Birmingham, MI) will host a luncheon fundraiser for the Storytellers Guild, with proceeds going to the purchase of library books for classrooms visited by the Guild. Guest speakers are author Robbyn Smith and illustrator Gijsbert van Frankenhuyzen. Gijsbert will also be signing copies of his books, available at the event courtesy of Book Beat. Tickets are $35 per person. Register by April 22 at www.tchserves.org or call (248) 554-6594. There will also be a basket and book raffle. Please join us for this chance to benefit a great cause!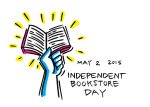 Join us at Book Beat (26010 Greenfield Rd., Oak Park, MI 48237) on Saturday, May 2 to celebrate Independent Bookstore Day with authors Loren D. Estleman (Detroit is Our Beat, Amos Walker Mysteries), Wong Herbert Yee (Mouse and Mole series, Fireman Small), Kathryn Madeline Allen (A Kiss Means I Love You) and Sheila McCauley Keys (Our Auntie Rosa). Authors will be speaking as well as signing copies of their work. This event is free and open to the public. For any further information, please contact Book Beat (248) 968-1190.
Author and Michigan native Matthew Baker will be appearing at the Berkley Public Library (3155 Coolidge Hwy, Berkley, MI 48072) on Saturday, May 2 from 10:30-11:30am to promote the release of his debut novel for young readers, If you Find This. This event is free and open to the public and co-sponsored by Book Beat. Books will be available for purchase at the event. For more information, please call (248) 968-1190.
Book Beat will be providing books for this years annual Books on the Lake luncheon on Saturday, May 2 at 11:30am in the Grosse Pointe Yacht Club (788 Lake Shore Rd, Grosse Pointe Shores, MI 48236). This years authors are: Erik Larson, Megan Abbott, and Wade Rouse. Books will be available at the event for purchase and signing. Tickets are currently SOLD OUT. Please call The Grosse Pointe Library Foundation with any questions (313) 640-4683. This event is made possible by the Grosse Pointe Library Foundation, through a partnership with Wayne County Community College District and The Friends of the Grosse Pointe Public Library.