The Book Beat will be closed today, Monday Feb. 16th due to inclement weather. Sorry for the inconvenience.
Book Beat is happy to be selling books at the AIMS (Association of Independent Michigan Schools) Michigan Authors Reading and Writing Workshop on Monday, February 9th, 2015 at the Academy of the Sacred Heart from 8 A.M.to Noon. Participating authors include: Jean Alicia Elster, Renne Hand, and Lori Taylor. This event is free for all AIMS schools though their AIMS representative by February 4th. Non-AIMS school teachers and librarians are welcome at a $50 registration fee either on-site or through Debra Dietrich (ddietrich@cranbrook.edu).
Join us at Book Beat on Saturday, February 14th from 1:00-3:00pm for a very special Valentine's Day event featuring two of our favorite local authors: Wong Herbert Yee and Kelly DiPucchio, who will be reading and signing copies of their work. Asa special treat, Wong Herbert Yee will also demonstrate and help you create your very own Valentine! Don't miss this rare opportunity to create a unique Valentine alongside a professional artist! Fun for all ages! This event is free and open to the public. Please call Book Beat (248) 968-1190 for any further information.
Join us at Book Beat (26010 Greenfield Rd. Oak Park, MI 48237) on Saturday, February 28 for an all-day fundraiser from 10am-7pm to benefit the Southeastern Michigan Chapter of the Sierra Club. 20% of customer purchases will go directly to benefit our local chapter.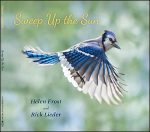 From 1:00-4:00pm, Book Beat will also be hosting the official book launch for Sweep Up the Sun, the latest collaboration between poet Helen Frost and photographer Rick Lieder. This is the follow-up to their first book together, Step Gently Out, which featured incredible close-up photography of insects. Sweep Up The Sun pairs Rick's exquisite photographs of eleven species of birds with Helen's elegant poem inspiring readers to open their wings and soar. They will autograph books as well as speak with friends and fans.
 Join us at Book Beat on Saturday, February 28 from 6:00-7:00pm to meet John C. Ford, author of The Cipher, a new fast-paced, young-adult techno thriller. He will be speaking as well as signing copies of his work. This event is free and open to the public. For more information or to reserve copies, please call Book Beat (248) 968-1190.
 Book Beat's February Reading Group Selection is Oxherding Tale by Charles Johnson. The Reading Group will meet on Wednesday, February 25 at 7:00pm in the Goldfish Teahouse (117 West 4th Street #101, Royal Oak, MI 48067). Reading Group books are discounted 15% at Book Beat. All are welcome!