Award-winning author and biblical scholar Robert Alter will visit the Congregation Beth Shalom (14601 West Lincoln Road, Oak Park, MI 48237-13911) on Wednesday, June 11 & Thursday, June 12 as part of the 5th Annual Rabbi David & Alicia Nelson Legacy Event. The keynote address will take place on Wednesday, June 11 at 7:30pm at Congregation Beth Shalom, and is entitled Reading Biblical Narrative. A desert reception will immediately follow. Tickets are $12 in advance, or $15 at the door. On Thursday, June 12 at 12:30pm will be the Lunch & Learn program at Congregation Beth Shalom on The Challenges of Translating the Bible. Tickets are $15 including lunch. Dietary laws will be observed. Reservations are required. Please contact cbs@congbethshalom.org or call (248) 547-7970.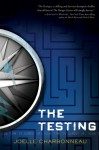 Summer Reading Begins here!
Book Beat and the Southfield Public Library are proud to host YA author Joelle Charbonneau at the Southfield Public Library (26300 Evergreen Rd, Southfield, MI 48076) on Thursday, June 19 from 6:30-8:30pm to promote the conclusion of her best-selling The Testing series, Graduation Day YA and adult readers too. This is a great way to kick off your summer reading; a suspenseful thriller you'll quickly devour. We hope you'll join us. This event is free and open to the public. Books will be available for purchase and signing at the event courtesy of Book Beat. This signing will be the first to honor the books release. To reserve copies ahead of the event, call Book Beat or visit soon.(248) 968-1190. Tell a friend, bring a friend.
Join us at Book Beat (26010 Greenfield Rd. Oak Park, MI 48237) on Sunday, June 22 from 3-4pm to welcome Nichole Christian and Julie Pincus, authors of Canvas Detroit, a beautiful new survey of Detroit art and artists. They will be speaking as well as signing copies of their book. This event is free and open to the public. If you have any questions or wish to reserve a copy of the book, please call Book Beat (248) 968-1190.
Reading Group postponed one week: meeting  Wed., July 2nd
Book Beat's Reading Group selection for June is Memoirs of a Shy Pornographer by Kenneth Patchen. The Reading Group will meet Wednesday, July 2nd at 7pm in the Goldfish Teahouse (117 W 4th St #101, downtown Royal Oak, MI 48067). Books are discounted 15% at Book Beat. All are welcome!
"The world of Kenneth Patchen is complex with its own fantastic system. Readers come back with a dazed sort of look shining on their faces and have never been the same since."- The New York Times Book Review