Summer Reading Begins Here!
Book Beat and the Southfield Public Library are proud to host YA author Joelle Charbonneau at the Southfield Public Library (26300 Evergreen Rd, Southfield, MI 48076) on Thursday, June 19 from 6:30-8:30pm to promote the conclusion of her best-selling The Testing series, Graduation Day. A new trilogy for fans of The Hunger Games and Divergent, this is a great way to kick off your summer reading; a suspenseful thriller you'll quickly devour. We hope you'll join us. This event is free and open to the public. Books will be available for purchase and signing at the event courtesy of Book Beat. This signing will be the first to honor the books release. To reserve copies ahead of the event, call Book Beat or visit soon.(248) 968-1190. Tell a friend, bring a friend.
"An exciting story bound to capture readers' imaginations… Charbonneau works action, romance, intrigue, and a plausible dystopian premise into a near-flawless narrative. " —Publisher's Weekly *starred review

"Conspiracies, counterconspiracies, lies and double crosses: It's quite a ride."
—Kirkus
"The Testing is a page-turner! [with] strong romantic heart and gripping plot that's sure to fully engage dystopian fans." —Emmy Laynourne, author of Monument 14 
"YA dystopia lovers, rejoice!" –review from YA Books & More
"Charbonneau has created an enthralling world where passing the test really is the difference between life and death." –The ALA recommends: What to Read
"It's graduation day for sixteen-year-old Malencia Vale, and the entire Five Lakes Colony (the former Great Lakes) is celebrating. All Cia can think about—hope for—is whether she'll be chosen for The Testing, a United Commonwealth program that selects the best and brightest new graduates to become possible leaders of the slowly revitalizing post-war civilization. When Cia is chosen, her father finally tells her about his own nightmarish half-memories of The Testing. Armed with his dire warnings ("Cia, trust no one"), she bravely heads off to Tosu City, far away from friends and family, perhaps forever. Danger, romance—and sheer terror—await."- publisher description
Are you ready for the test? Visit: THE TESTING TRILOGY SITE
About the author: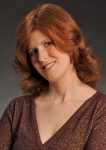 Joelle Charbonneau is a storyteller at heart. She has performed in a variety of operas, musical theatre and children's theatre productions across the Chicagoland area. In addition to her stage work, Joelle has also performed with several bands and worked as a solo performer.
She is the author of the Rebecca Robbins (Minotaur Books), the Glee Club Paige Marshall (Berkley) mysteries and the YA The Testing trilogy (The Testing, Independent Study and Graduation Day Houghton Mifflin Harcourt Children's).