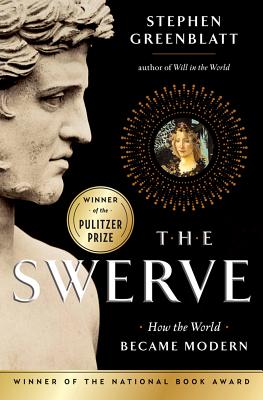 Book Beat's January Reading Group selection is The Swerve: How the World Became Modern by Stephen Greenblatt. The Reading Group will meet on Wednesday, January 29 at 7:00pm inside the Goldfish Teahouse (117 W 4th St #101, in downtown Royal Oak, MI 48067). Books are discounted 15% at Book Beat. All are welcome!
"…Once you start thinking about these ideas, once you start thinking what the implications of a world made of atoms and emptiness and nothing else, lots of things, potentially at least, follow. And the things that follow can be extremely dangerous.." –Stephen Greenblatt, PBS Interview
"In this gloriously learned page-turner, both biography and intellectual history, Harvard Shakespearean scholar Greenblatt turns his attention to the front end of the Renaissance as the origin of Western culture's foundation: the free questioning of truth." (starred review – Publishers Weekly)
"The story is told with all Greenblatt's style and panache. He brings the silent labours of a medieval scriptorium to life by describing the elaborate sign-language that scribes used to indicate which manuscript they needed to consult: a scribe called for a particularly offensive pagan text such as Lucretius by putting two fingers in his mouth "as if he were gagging". –Review in The Guardian
"In The Swerve, the literary historian Stephen Greenblatt investigates why [Lucretius' ] book nearly dies, how it was saved and what its rescue means to us." -Sarah Bakewell, New York Times Book Reivew
Nearly six hundred years ago, a short, genial, cannily alert man in his late thirties took a very old manuscript off a library shelf, saw with excitement what he had discovered, and ordered that it be copied. That book was the last surviving manuscript of an ancient Roman philosophical epic, On the Nature of Things, by Lucretius—a beautiful poem of the most dangerous ideas: that the universe functioned without the aid of gods, that religious fear was damaging to human life, and that matter was made up of very small particles in eternal motion, colliding and swerving in new directions.
The copying and translation of this ancient book-the greatest discovery of the greatest book-hunter of his age-fueled the Renaissance, inspiring artists such as Botticelli and thinkers such as Giordano Bruno; shaped the thought of Galileo and Freud, Darwin and Einstein; and had a revolutionary influence on writers such as Montaigne and Shakespeare and even Thomas Jefferson.