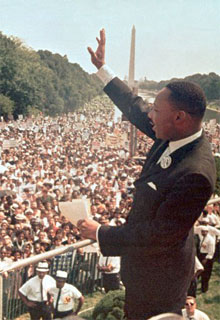 Honor Dr. Martin Luther King, Jr. Day this Monday, January 15th. View other peace statements and write your own vision of peace at PEACEPOD Try to finish the statement by Dr. Martin Luther King, Jr., with your own thought : "I Have a dream.." and share it with others. Peace to all, celebrate peace, honor Dr. King. Visit THE KING CENTER and listen to speeches, tributes and learn more about Dr. King's legacy. Read one man's tribute at: A Tribute to Dr. Martin Luther King, Jr. History is indeed made up of significant events which shape our future and outstanding leaders who influence our destiny.
"Every King holiday has been a national "teach-in" on the values of nonviolence, including unconditional love, tolerance, forgiveness and reconciliation, which are so desperately-needed to unify America. It is a day of intensive education and training in Martin's philosophy and methods of nonviolent social change and conflict-reconciliation. The Holiday provides a unique opportunity to teach young people to fight evil, not people, to get in the habit of asking themselves, "what is the most loving way I can resolve this conflict?"
On the King holiday, young people learn about the power of unconditional love even for one's adversaries as a way to fight injustice and defuse violent disputes. It is a time to show them the power of forgiveness in the healing process at the interpersonal as well as international levels.
Martin Luther King, Jr. Day is not only for celebration and remembrance, education and tribute, but above all a day of service. All across America on the Holiday, his followers perform service in hospitals and shelters and prisons and wherever people need some help. It is a day of volunteering to feed the hungry, rehabilitate housing, tutoring those who can't read, mentoring at-risk youngsters, consoling the broken-hearted and a thousand other projects for building the beloved community of his dream.
Dr. King once said that we all have to decide whether we "will walk in the light of creative altruism or the darkness of destructive selfishness. Life's most persistent and nagging question, he said, is `what are you doing for others?'" he would quote Mark 9:35, the scripture in which Jesus of Nazareth tells James and John "…whosoever will be great among you shall be your servant; and whosoever among you will be the first shall be the servant of all." And when Martin talked about the end of his mortal life in one of his last sermons, on February 4, 1968 in the pulpit of Ebenezer Baptist Church, even then he lifted up the value of service as the hallmark of a full life. "I'd like somebody to mention on that day Martin Luther King, Jr. tried to give his life serving others," he said. "I want you to say on that day, that I did try in my life…to love and serve humanity. — from the King Center.org
Click, view and listen to: "I Have a Dream": http://www.youtube.com/watch?v=PbUtL_0vAJk