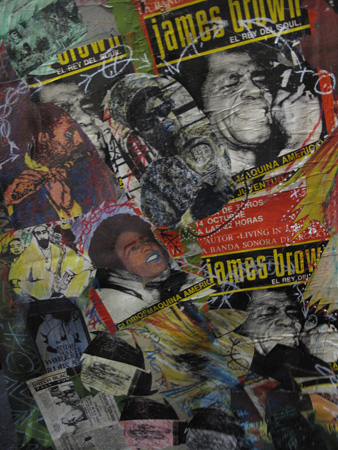 "The journey, the path, the legacy, following dreamz, going home."  -Ibn
The Juju Spirit radiates throughout the works of Detroit artist Aaron Ibn Pori Pitts. Hearts, arrows, crosses and hoodoo symbols from West Africa; Yoruba, Bantu, Mali and Dogon culture, clash and frame layered, over-painted portraits of Ornette Coleman, James Brown, Malcolm X, Faruq Z. Bey, Rosa Parks and many others.
Revolution, community and the daily beat of  life are Ibn's subjects. Smashed cans, food wrappers, fragments of urban waste and cultural leftovers overlap side-by-side on large irregular shaped support material made from scraps of cardboard and sheets of found vinyl. Covered in a thick polyurethane gloss, the collages glow with historic and spiritual qualities -bathed in memory, thinking quilts of our time. They move and pulse in rhythmic dance, ablaze with color, depth and energy.
"urban folk culture iz the continuation of the past/future w/improvisation used az the key life-force to survival.." -Ibn
Since the mid 1960s, 70-year-old Ibn has produced art under many names and collectives including; The Black Graphics International, Ogun Urban Monumentz, African Burial Groundz, Kcalb Gniw Spirit, Ogun
Ritual Altars, Ogun Monument Warriorz, Incarnationz, and Tributes to the African Ethoz. His works celebrate Juneteenth day, Nelson Mandala, Mumia Abu Jamal, African pride and Jazz. They speak on behalf of political prisoners, the repressed and unrepresented.
Ibn has toured the country reciting poetry with jazz great Henry Grimes and performed in numerous one-off band ensembles known simply as "Band Unit #10". His art has been displayed on city streets as well as galleries in Detroit, New York, Los Angeles, Toronto, Senegal, Birkina Faso, Abidjan/Ivory Coast,  Kingston Jamaica, and Brazil. Ibn is a citizen of the Pan-African, Sun Ra Omniverse; an Afro-futurist practicing his art on the outer edges of Western tradition -faraway from what Ibn has called the thick mire of fetish materialism.
"for the essence of  r own soulz, for freedom'z call, for this struggle for an egalitarian society,  for thiz iz the call…. the meaning of it all."   -Ibn
Ibn's portrait-collages are heroic graffiti-flags  –memorial billboards and 'tombstones' of justice, emblazoned with an African/urban aesthetic. His ancestor series are referred to as "burial groundz" and "urban monumentz" – time-machine artworks that are the descendants and extensions of Jean-Michel Basquiat, Jacob Lawrence and Romare Bearden. These politicized urban assemblages are opposed to mass conformity and packaged pop. Ibn's raw art-brutish artworks are saturated with voudon references and elements of erasure, gestural markings and deep rubbing reliefs that bring to mind the surrealist frottage's of Max Ernst, the controlled collage of Robert Rauchenberg and the lyrical madness of Willem de Kooning.
Ibn developed his own subterranean codes and markings, related to hobo writing, railroad graffiti, astrological charts, and African hieroglyph patterns. These complex marks, mixed with multiple layered and improvised blocks of color, create sonic fields of  free-jazz like dimensions.  Ibn has made improvisation alive in collage, with multitudes of styles, messages and secret experiments that seem in progress, unfinished.
Ibn is a respected elder in the African-American arts scene. His quiet yet intense public presence in Detroit was the litmus test when anything of cultural/spiritual importance occurred. He methodically documented countless concerts, lectures and events, his video camera a constant companion. He's kept alive an enthusiasm for life and ritual, a thirst for knowledge, authenticity and the pure expression of joy, freedom and innocence.
"taking back the righteouz voice  of r elderz and the voice of the children shall be heard, taking back the meaning of the black/bluez, giving life to the spirit " –Ibn
*   *   *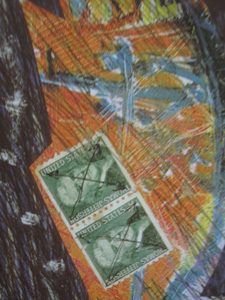 Vision in a Cornfield / Ogun Urban Monumentz
One night in the late 1990s, while assisting on Cameron Jamie's Spookhouse film, Mike Kelley and I heard a loud rumble coming from a cornfield near Fowlerville, Michigan. We followed the sound until we came across a solitary low-rider complete with fuzzy dice and without occupants. The auto was sitting among the cornstalks, glowing in deep purple from lights underneath and throbbing from an unholy noise coming from the trunk. We saw the car and rattling sound as 'alien' installation art.
We discussed animating automobiles; giving them exaggerated robotic motion, humping, life-sized toys, filtering damaged  DAM sounds. We thought of sharing our sound sample libraries with other artists, especially techno musicians, and having the mutated  'transformer' autos converse and dance to the new mixes. The DAM sample project was long on our minds since the bulk of  them were stored on floppy discs and other vanishing formats that needed preservation.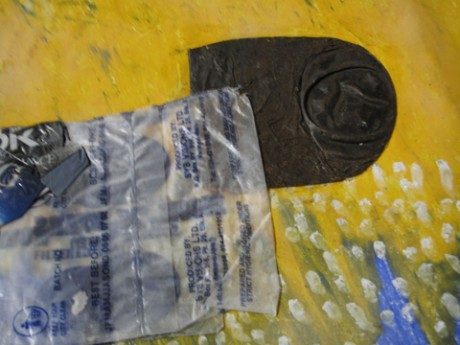 Later, I recalled Ibn's automobile project of the mid-1990s; Afro-futurist shrines dedicated to ancestors he called Urban Monumentz.  These were West African Orisha altars; sites of transformation and musical ritual, artfully designed and spiritually charged. Ibn connected African religion to the streets, re-imagining and framing one of our most valued consumer objects with the warrior divinity Ogun.
In the 80s and 90s, scrap metal was cheap and Detroit was littered with countless rusted-out automobiles. Ibn neutralized these post-consumer rejects and signs of blight, into objects of rare beauty and poetry through ceremonial purification. Through the spirit of Ogun, the African god of iron and metal  (also the god of thunder, war, revolution and slave revolts) Ibn and his collective, delivered the dead metallic hulks back into the community as something beautiful from the earth. The Kclab Gniw Spirit group, acted as shamanic warriors, consecrating their altars in the name of departed souls, revolutionary leaders, jazz musicians and artists.
Kelley agreed this would make an interesting collaboration between our collectives. I spoke with Ibn in 2002 about creating a joint installation based on his abandoned auto project. At one meeting, Ibn shared photographs and a catalog of his automobile shrines and we thought it could happen, yet the complexity of the project and Kelley's busy schedule made it impossible at the time.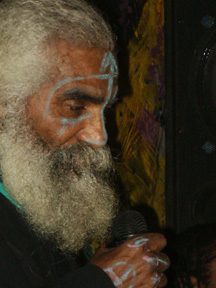 "the ceremonies of  r own integration of theory and practice in musik/dance/art/ poetry/ the drama that we call the ritual…"  -Ibn
Ibn suffered a massive stroke while delivering a eulogy at a friend's funeral in 2008. That left him partially paralyzed and with limited verbal skills. He now lives in a nursing home, bound to a wheel chair and in physical therapy. Since Kelley's death in January of this year, the project looked impossible to ever complete.
While discussing a MOCAD journal project with Rebecca Mazzei, (a box project with roots in Afro-futurism) I mentioned the installation and cornfield vision. Mazzei believed we could make it happen and ready by the fall. We then met with artist M.  Saffell Gardner, a friend and member of the Kcalb Gniw Spirit collective , who agreed to manage the installation on behalf of Ibn and act as co-curator for the project.
Apetechnology, a Detroit collective of metal hackers formed out of Mark Pauline's Survival Research Laboratory, was a logical source to transform the cars into motion. I noticed the group several years ago at the Maker's Faire at Greenfield Village, and thought a collaboration at some point would be inevitable. We met at their aptly named "Destroy Compound" – where the group gave us a tour of their demolition factory and demonstrated their wild robotic hacking strategies. The group agreed to help mutate, animate and wire the automobiles for sound, a key part to realizing the complete project.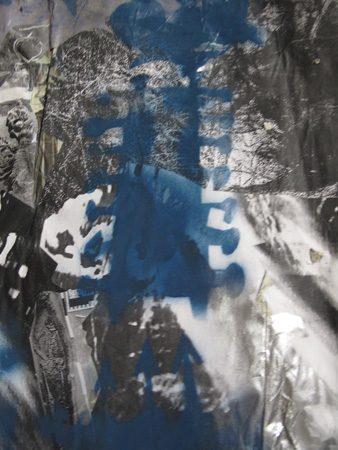 Samples from Destroy All Monsters began to be recently saved and digitized thanks to the efforts of Scott Benzel and the Mike Kelley Foundation for the Arts. Due to time and legal limitations, the samples were unable to be distributed in time  to other sound artists. Instead, I structured the samples into small layered "song groups" that  played in random sequences through the cars. These were mixed with solo recordings of Jim Shaw from his 8 CD box set and "Swamp Gas" poetry read by Mike Kelley. The samples were further manipulated by random pitch changes and selection through a computer program developed by Leith Campbell at Apetechnology.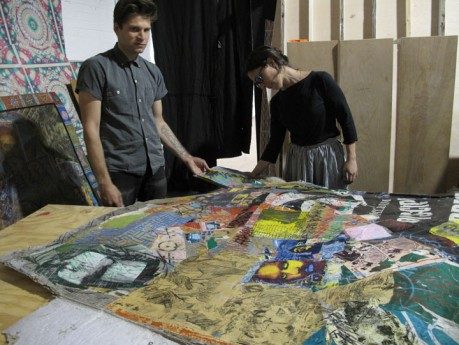 In the spring, Saffell and I met with Ibn and his brother Nehemiah at the nursing home to discuss the project and show him sketches of the proposed layout. Ibn's speech was difficult, but he was positive with the idea and said, "not to worry about it." Saffell then met with artist musician Lester Lashley, another Kcalb Gniw Spirit/ Ogun member based in Chicago (who is also a founding member of the AACM) . Lashley also agreed to also help with the Monumentz construction.
The combined efforts of  several collectives were gathered to produce this epic multilevel display, and MOCAD was majorly supportive and helpful. It seems fitting to be happening in Detroit during the departure year of both Faruq Z. Bey and Mike Kelley.  Its been a slowly evolving project, organically coming together across the years, as if directed almost by psychic or ancestral forces.
A group of large painting/collages by Ibn were recently rescued by Saffell and the staff of MOCAD. These will also be on display, courtesy of Ibn and his wife Gloria. A related Afro-futurist themed journal titled "Box" will be assembled in time for the opening. Box will have loosely assembled contributions from a diverse group of artists and musicians, and will be available for purchase from MOCAD and Book Beat. Besides holding an LP called "Spirit Songz" with half a side by Sun ra and the other by Ibn, the Box will contain artworks by many local artists including; Leni Sinclair, Gary Grimshaw, Saffell, Ibn, Gilda Snowden and many others.
Vision in a Cornfield/ Urban Monumentz opens at MOCAD Sept 7 at 7 pm and runs through Dec 30, 2012.
"we keep on keepin' on… refusing to quit/ refusing to die young, that'z the trick resonating from thiz journey/ the vivid memoriez of their pathz/ the ancestorz legacy speaking inside ur being of their endurance az they followed dreamz that shaped r collective singular earring dangling from the next generations ear l  o b e z"  –Ibn
all quotes from The Path, by Aaron Ibn Pori Pitts, Black Graphics International, Detroit/Michigan/ USNA, all photographs of Ibn's artwork (shown in detail) were taken at MOCAD on 6/11/2012, photo of Ibn courtesy of Saffell Gardner.