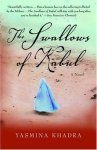 The Book Beat's Reading Group selection for April is The Swallows of Kabul by Yasmina Khadra. The Reading Group will meet on Wednesday, April 22nd  at 7:00pm in the Goldfish Teahouse (117 W 4th St #101, Royal Oak, MI 48067). Reading Group books are discounted 15% at Book Beat. All are welcome!
"Khadra's prose is gentle and precise, but the violent climax of the book makes a powerful point about what can happen to a man when the light of his conscience has gone out."- The New Yorker
"A novel very much in the tradition of Albert Camus, not only in its humanism and concern with the consequences of individual choices but also in its determination to bear witness to the absurdities of daily life. . . . [A] chilling portrait of fundamentalism run amok and its fallout on ordinary people." — The New York Times
"Beautifully written. . . . It puts a human face on the suffering inflicted by the Taliban. . . . Disturbing and mesmerizing, The Swallows of Kabul will stay with you long after you've finished it." — San Francisco Chronicle
The Swallows of Kabul is a dazzling novel written with compassion and exquisite detail by one of the most lucid writers about the mentality of Islamic fundamentalists and the complexities of the Muslim world. Yasmina Khadra brings readers into the hot, dusty streets of Kabul and offers them an unflinching but compassionate insight into a society that violence and hypocrisy have brought to the edge of despair.
"Music is the true breath of life. We eat so we won't starve to death. We sing so we can hear ourselves live."
–Yasmina Khadra, Swallows of Kabul
Yasmina Khadra is the pseudonym of the Algerian writer Mohammed Moulessehoul, born in 1956. A high ranking officer in the Algerian army, he went into exile in France in 2000, where he now lives in seclusion. In his several writings on the civil war in Algeria, Khadra exposes the current regime and the fundamentalist opposition as the joint guilty parties in the Algerian Tragedy. Before his admission of identity in 2001, a leading critic in France wrote, 'A he or a she? It doesn't matter. What matters is that Yasmina Khadra is today one of Algeria's most important writers.'
Watch an interview with Yasmina Khadra after the attack on Charlie Hebdo: