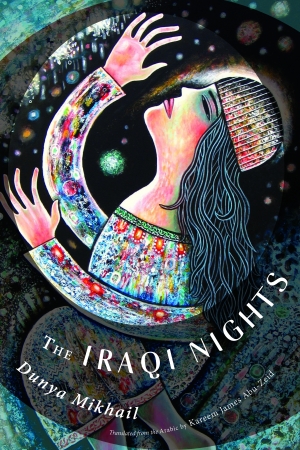 Book Beat's Reading Group selection for May is The Iraqi Nights by Dunya Mikhail. The Reading Group will be joined by poet Dunya Mikhail on Wednesday, May 28th at 6pm in Book Beat (26010 Greenfield Rd. Oak Park, MI 48237). Join us at 7pm for a special open-to-the-public reading and discussion with Dunya. Reading group books are discounted 15% at Book Beat. All are welcome!
"Stark and poignant, Mikhail's poems give voice to an often buried, glossed-over or spun grief." –Publishers Weekly
"[Mikhail is] a poet who can take a subject as difficult as the death of a child and write, counter to the human-interest story or sound bite, a poem that will outlast the exigencies of the present." –Susan Barba, Boston Review
The Iraqi Nights is the third collection by the acclaimed Iraqi poet Dunya Mikhail. Taking The One Thousand and One Nights as her central theme, Mikhail personifies the role of Scheherazade the storyteller, saving herself through her tales. The nights are endless, seemingly as dark as war in this haunting collection, seemingly as endless as war. Yet the poet cannot stop dreaming of a future beyond the violence of a place where "every moment / something ordinary / will happen under the sun." Unlike Scheherazade, however, Mikhail is writing, not to escape death, but to summon the strength to endure. Inhabiting the emotive spaces between Iraq and the U.S., Mikhail infuses those harsh realms with a deep poetic intimacy. The author's vivid illustrations — inspired by Sumerian tablets — are threaded throughout this powerful book.
Listen to a Dunya Mikhail interview and reading from War Works Hard;the first book of contemporary poetry written by an Iraqi woman, published in the United States and (winner of the 2004 Pen Translation Fund Award) –listen on npr public radio.
"Mikhail's poetry- so pure and beautiful- is the best of her generation."-Fadhil Al-Azzawi
Dunya Mikhail was born in Iraq and is the author of The War Works Hard (New Directions, 2005), which was shortlisted for Griffin and named one of "Twenty-Five Books to Remember from 2005" by the New York Public Library. It was translated by Elizabeth Winslow who won the PEN Translation grant (2004). It was also translated into Italian (by Elena Chiti) and published (Edizioni San Marco dei Giustiniani, Rome, 2011). Her Diary of A Wave Outside the Sea (New Directions, 2009) won the 2010 Arab American Book Award. Mikhail has six poetry books in Arabic; the most recent one is The Iraqi Nights (Mesopotamia Press, Baghdad, 2013; New Directions, 2014). In 2001, she was awarded the United Nations Human Rights Award for Freedom of Writing. In 2013, she was named a Kresge fellow for literary arts. She currently lives in Michigan and works as an Arabic instructor at Oakland University.