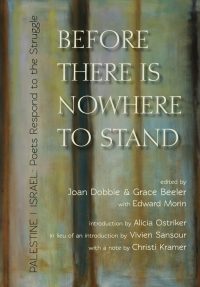 Join us at Book Beat on Sunday, April 14 from 3:00-4:00pm for an afternoon of compelling poetry with contemporary voices from the Israel/ Palestine conflict. Before There is Nowhere to Stand is a new collection of poetry featuring voices from both sides of the Israel/Palestine conflict with the intention of fostering a dialogue between the two countries respective communities and poets. Editor Edward Morin has brought together poets Joe Weintraub and George Adib Khoury who will be present to offer their perspectives. Sandra Novacek– widow of author Charles Novacek– will also appear to discuss the incredible tale of her late- husband's survival amid the Nazi occupation of his homeland, related in the moving memoir Border Crossings: Coming of Age in the Czech Resistance.
This event is free and open to the public. Books will be available for purchase at the event. Please call Book Beat (248) 968-1190 for more information or to reserve copies of the books.
Editors Joan Dobbie and Grace Beeler, both Jewish descendants of Holocaust survivors, responding to Israel's Operation Cast Lead, the Gaza massacre, issued a call for poetry. The ad, first posted in Poets & Writers read, "Are you Jewish or Palestinian? Of Palestinian or Jewish heritage? Please submit poetry for an anthology that strives for understanding in these troubled times. All points of view wanted in the belief that poetry can create understanding and understanding can dull hatred."
". . . The story of Israel / Palestine is ugly, tragic, human. But the book you hold in your hands exists to remind you that the story is not finished. . . ." —Alicia Ostriker
"There is, perhaps, an imagination that can transform the violent world we live in. Poetry holds this possibility. If language itself may efface or serve to reproduce narratives that diminish or that normalize oppression, where is the difference? Might poetry open to a telling that is full; might it be a place of witness, for meeting of self and other? In it, may a lone reader find (what you may call) courage or solidarity, humanity; or recognize in the creative act proof of resilience? Or, shall we share Mahmoud Darwish's stance, that "Every beautiful poem is an act of resistance."
You may find the poems gathered here to be invitation. Or you might understand this anthology as response to a call for poetic imagination." -from the introduction by Christi Kramer
Edward Morin co-edited Before There is Nowhere to Stand (BTINTS) and has a poem and four co-translated poems in it.  His poems have been published in Hudson Review, New Letters, and Ploughshares.  Collections of his poems include Labor Day at Walden Pond and The Dust of Our City.  His co-translations of Greek, Chinese, and Arabic poems have appeared in Iowa Review, Poetry Miscellany, Banipal, and Connotation Press.  He edited and co-translated another  anthology, The Red Azalea: Chinese Poetry since the Cultural Revolution (U. of Hawaii Press).  He taught English at Wayne State U. and College for Creative Studies.
J. (Joe) Weintraub, who has a poem in BTINTS, has published fiction, essays, poetry, and translations in Massachusetts Review, The New Criterion, Michigan Quarterly Review, Prairie Schooner, The MacGuffin, The Chicago Reader, and The Seattle Weekly.  He is a network playwright at Chicago Dramatists and has had one-act plays produced by the Theatre-Studio in New York City; Summer Place Theatre in Naperville, IL; Theatre One in Middleboro, MA, American Blues Theatre, and Second City (Chicago).  He has received Illinois Arts Council Awards for creative writing and the Barrington Arts Council's John P. McGrath Memorial Prize for Fiction.
George Khoury has a co-translated poem in BTINTS.  A Nakba survivor from Birzeit, Palestine, he attended high schools in Jordan and Egypt, then emigrated to the U.S. and earned a degree in engineering from the U. of Detroit and an MBA from Central Michigan U.  He has translated many technical manuals for heavy  machinery and autos from English to classical Arabic.  He edited the collected poems in Arabic of Diab Rabie, last of a group of five great Diaspora poets which included Gibran Kahlil Gibran, Michael Naimeh, and Elie Abu-Madi.  The volume is entitled Shetharat El-Rabie (The Birzeit Society, 2010).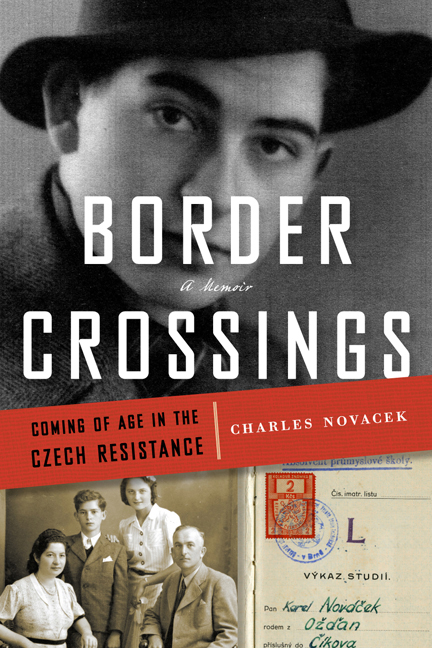 Charles Novacek spent his youth defending his neighbors, his family, and his country, first from the Nazi atrocities of World War II and then from the Soviet oppression of the ensuing Cold War. Charles was eleven years old when his father and uncle recruited him into the Czech Resistance. Antonin Novacek not only taught his son to survive in the wild, but also prepared him for wartime: how to resist pain, hunger, and fear and to trust no one. His assignments included delivering messages to soldiers parachuting behind enemy lines and hiding them in caves he equipped for their shelter. As a young man, Charles was captured and jailed by the Communists and rescued by an underground resistance network. In too much danger to remain in Czechoslovakia, he staged a daring escape only to land in a miserable displaced persons camp. His will to live prevailed once again, and Charles eventually married and built a successful life in America.
"Border Crossings is the well-told and dramatic story of a young man whose comfortable life is abruptly transformed by the savagery of World War II. Forced to rely on primal instincts and his familiarity with the rugged highlands of Moravia, Charles Novacek casts his lot first with the anti-Hitler Underground and then with the resistance to the Nazis' Communist successors. "My recollections pain me," he writes, "still, they have made me who I am." Novacek's experience as a Hungarian-speaking Czecho-Slovak patriot demonstrates the folly of petty nationalism and the resilience of human decency and love." – Madeleine Albright, former U.S. Secretary of State
"Border Crossingshelps fill the lack of personal accounts of resistance movements amidst a voluminous array of World War II literature. This compelling memoir, written through the eyes of young Charles, shows how circumstances required him to become a shrewd hero. In his opposition first toward Nazism and then Communism, Charles Novacek's personal story illustrates why people sacrifice themselves and their families for an ideal. Intimate, intense, fascinating!"  – Christina Vella, coauthor of The Hitler Kiss