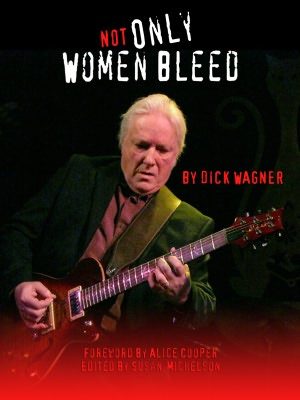 Legendary musician and newly-turned author, Dick Wagner will be stopping by the Book Beat (26070 Greenfield Rd. Oak Park, MI) on Sunday, November 11 from 2-4pm to promote the release of his memoir, Not Only Women Bleed. Dick will be signing as well as performing some songs. Books will be available for purchase at the event. To reserve a copy or for any further questions, please call Book Beat (248) 968-1190.
In his foreword, longtime collaborator Alice Cooper proclaims, "Dick isn't JUST a guitar player… He's a gifted writer, and I wrote most of the Alice Cooper Hits with him…. Most of them all Top 40 Hits. My personal and musical friendship with Dick goes on and on, and thankfully it's not over yet."
Honored by Gibson.com for one of the Top 50 Guitar Solos of All Time, legendary lead guitarist and hit songwriter Dick Wagner releases his highly-acclaimed memoirs ,"Not Only Women Bleed, Vignettes from the Heart of a Rock Musician."
Wagner, the often "Invisible Virtuoso," takes readers on a literary journey as he shares a lifetime of experience as lead guitarist and songwriter for international rock icons including Alice Cooper, Aerosmith, Lou Reed, Peter Gabriel, Air Supply, and more. In his captivating, witty, literate, and often touching memoir, Wagner delivers colorful tales of reckless behavior and intimate debauchery with an emotional reverberation that resonates with a wide reading audience. It's not just "sex, drugs and Rock & Roll." From industry successes and failures, to personal struggles with family and relationships, "Not Only Women Bleed" is a hard-driving, heart-driven life scripture, vividly and joyfully conveyed.