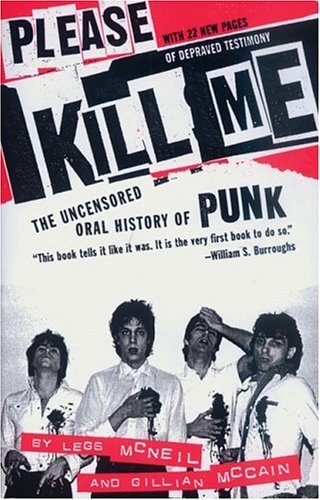 Legendary "resident punk" writer  "Legs" McNeil will be reading and signing at the Book Beat on Sunday, September 30th from 3-4 PM. Legs is co-author (with Gillian McCain) of the definitive punk rock history Please Kill Me and the co-founder (along with cartoonist John Holmstrom) of Punk Magazine founded in 1975 when he was 18 years old.
What the book shows is that everyone was really great and they could also be jerks. That's what makes the book not like your usual rock and roll book. That's what I don't like about most rock and roll books is that they're written by fans and so they lionize them, but I wanna read about 'em being creepy… I didn't think the book would sell. It just kind of exploded, and then everybody had something to say about it and something to say about me. It sells even better now than when it came out. It was nice that it was word of mouth. It's the ultimate bathroom book, it's the kind of thing you see in someone's bathroom, pick it up, and then you can't put it down…it's very accessible. But people criticized us because they said we just "cut and pasted."  — Legs McNeil, Interview in Glorious Noise
"What's great about "Please Kill Me" is the almost-offhand way McNeil uses his plethora of sources to remind us of old myths before using other sources to tear them down. For example, the title of the book comes from a legendary T-shirt worn by Richard Hell of Richard Hell and the Voidoids. Only it turns out Hell never wore the shirt, his erstwhile Television band-mate Richard Lloyd did. It's also interesting to find out that the band who made the scene at CBGB's wasn't the Ramones but Television, who was there at least five months before and playing to decent crowds.
Another reason to pick the book up is its cast of characters. Alongside the band members, managers, and critics are a host of fans and other scene-makers. Thus, not only is the book able to simultaneously tell us about the music and musicians from both perspectives, but you generally get to feel like you know what the scene was about, who was actually in CBGB's on a regular night, and what was going on there. And the stories are truly classic." –Punk Book Review
Legs McNeil is the co-author  of The Other Hollyrwood; The Uncensored Oral History of the Porn Film Industry, with Jennifer Osborne and Peter Pavia (Regan Books, 2006), "I Slept with Joey Ramone: A Family Memoir" with Mickey Leigh. (Simon and Schuster, 2009) and The New York Dolls: Photographs with Bob Gruen (Abrams, 2008).  Legs McNeil lives in Pennsylvania with his dog Max.
Video interview of Legs McNeil and Mickey Leigh discussing their book; I Slept With Joey Ramone: