Great Winter Reading & Gift Giving Ideas for the Holidays:
The Kwame Sutra "The Kwame Sutra," is "a one-stop shop for all of Kwame's best BS," says top-rated morning radio show host Drew Lane. This new book from Pulitzer Prize-winning reporters M.L. Elrick and Jim Schaefer captures Kwame Kilpatrick as no one ever has. In his own words, including never-before-published quotations, the former mayor of Detroit reveals himself in many ways: Liar, Lothario and, yes, leader.
---
We Specialize in Children's Books:
Life in the Boreal Forest "Gorgeously intricate illustrations perfectly complement equally evocative text in this introduction to the great northern, or boreal, forest, which sprawls across the entire northern hemisphere…Guiberson and Spirin manage to successfully convey the beauty and majesty of this forest and its denizens in two dimensions, and a list of organizations devoted to preserving the forest provides further information. An author's note adds urgency to the message about the importance of preservation."—Booklist, Starred Review  Ages 4-8
A Family Secret paperback, $9.99While searching his grandmother's attic for likely items to sell at a yard sale, Jeroen finds a photo album that brings back hard memories for his grandmother, Helena. Helena tells Jeroen for the first time about her experiences during the German occupation of the Netherlands during the Second World War, and mourns the loss of her Jewish best friend, Esther. Helena believes that her own father, a policeman and Nazi sympathizer, delivered Esther to the Nazis and that she died in a concentration camp. But after hearing her story, Jeroen makes a discovery and Helena realizes that her father kept an important secret from her.
An Eye For Color: The Story of Josef Albers * "Spare, engaging text paired with striking gouache illustrations make this book a perfect choice for aspiring
young artists."—School Library Journal, starred review
"An accessible and lively introduction to this artist and to color theory."—Publishers Weekly
"An expanded biographical spread and comprehensive glossary with a color wheel greatly enhance this unusual effort, which closes with hands-on projects that explore color theory."—Booklist  Ages 9-12
The Magician's Elephant What if? Why not? Could it be?
When a fortuneteller's tent appears in the market square of the city of Baltese, orphan Peter Augustus Duchene knows the questions that he needs to ask: Does his sister still live? And if so, how can he find her? The fortuneteller's mysterious answer (an elephant! An elephant will lead him there!) sets off a chain of events so remarkable, so impossible, that you will hardly dare to believe it's true. With atmospheric illustrations by fine artist Yoko Tanaka, here is a dreamlike and captivating tale that could only be narrated by Newbery Medalist Kate DiCamillo. In this timeless fable, she evokes the largest of themes — hope and belonging, desire and compassion — with the lightness of a magician's touch. Ages 9-12
Forest Born A brilliant addition to the Books of Bayern, this book is a treat for fans of this series, and stands alone for readers who might be discovering the joys of Shannon Hale's writing for the first time.
"One doesn't need to have read the earlier books to become enraptured by this one, but doing so adds to the richness of these very satisfying tales."—Kirkus Reviews
Ages 13 and up
Midnight Charter (Hardcover) In a society based on trade, where everything can be bought and sold, the future rests on the secrets of a single document-and the lives of two children whose destiny it is to discover its secrets. In this spellbinding novel, newcomer David Whitley has imagined a nation at a crossroads: misshaped by materialism and facing a choice about its future. He has brought to life two children who will test the nation's values-and crafted a spellbinding adventure story that will keep readers turning the pages until the very end.
For readers who love Philip Pullman, THE MIDNIGHT CHARTER combines great storytelling with a compelling vision – a many layered adventure with powerful and timely implications.
Liar (Hardcover) "Larbalestier creates and sustains a marvelous tension, as readers ponder what part of Micah's narrative is true. Micah is wonderfully complex, both irritating and immensely likable. The unresolved ending will certainly provoke discussion, sending readers back to the text for a closer rereading."—Booklist
Age 14 and up
Sotah Set against the exotic backdrop of Jerusalem's glistening white stones and ancient rituals, Sotah is a contemporary story of the struggle to reconcile tradition with freedom, and faith with love.
"The pleasures of Ragen's book arise… from thought-provoking comparisons of Israeli Orthodox and American Jewish life." –Publishers Weekly
Louisa: The Life of Louisa May Alcott When Louisa May Alcott's Little Women was published in 1868 it was an instant success. Louisa drew on her experiences in writing the novel, but there's a lot more to her rags-to-riches story. Louisa came from a family that was poor but freethinking, and she started teaching when she was only seventeen years old. But writing was her passion. This informative biography captures the life of a compassionate woman who left an indelible mark on literature for all ages.  Ages 9-12
Eidi: The Children of Crow Cove (The Children of Crow Cove Series) (Hardcover) "Like the previous book in the Children of Crow Cove series, this unassuming yet compelling story is notable for the simplicity and power of the storytelling, the clarity of description and characterization, and the humanity of the ideas at the novel's heart." —Starred, Booklist
"[A] heartfelt story of love and belonging." —Kirkus Reviews
Everything for a Dog (Hardcover) This parallel novel to Martin's A Dog's Life (Scholastic, 2005), about a stray named Squirrel, tells the tale of Squirrel's brother and his search for a home. Unlike Dog's Life, only part of the story is told from Bone's perspective. Instead, it is also narrated by Henry, a boy desperately in want of a dog; and Charlie, who is dealing with the aftermath of his brother's recent death. Though it follows the standard "boy and his dog" story line, Martin's gentle tale also touches upon growing up, facing hardship, and the importance of companionship, no matter its form. The interconnected stories, told in alternating chapters, are thoughtfully written and crafted to a satisfying convergence. This is a touching and ultimately happy story that will appeal to fans of Phyllis Reynolds Naylor's Shiloh (S & S, 1991) and Fred Gipson's Old Yeller (HarperCollins, 1942), as well as to a wider audience.—Nicole Waskie (School Journal) Ages 9-12
Moomin: The Complete Tove Jansson Comic Strip Volume 3 (Hardcover) $19.95, "[Jansson's] work soars with lightness and speed, and her drawings only echo her writing: delicate but precise, observant yet suggestive . . . Jansson was exceptional, an exuberant explorer of emotional independence and interdependence, a liberating force." —Los Angeles Times Book Review
Moomin has been swiftly making its way into the hearts of North Americans ever since Drawn & Quarterly began collecting the strip in 2006. It debuted in the London Evening News in 1954 and has become the fastest-selling D+Q series to date. Fifty years ago, Tove Jansson's observations of everyday life—whimsical but with biting undertones—easily caught the attention of an international audience and still resonate today.
The True Deceiver (paperback) "…Jansson crafts an unsentimental – often mischievous – novel of ideas that asks whether it is better to be kind than to be truthful, especially for an artist. Ali Smith's excellent introduction expresses shock and delight that there is still fiction by Jansson untranslated into English. After reading this gem, who could disagree?" —Financial Times
"I loved this book…understated yet exciting, and with a tension that keeps you reading. I felt transported to that remote region of Sweden and when I finished it I read it all over again. The characters still haunt me."–Ruth Rendell
The Book About Moomin, Mymble and Little My (Hardcover) In a delightful, curious game of what come next, Moomintroll travels through the woods to get home with milk for Moominmamma. A simple trip turns into a colorful adventure as Moomintroll meets Mymble who has lost her sister Little My. Along the way, they endue the hijinks of all teh charming characterse of the Moomin world including the Fillijonks and Hattifatteners. Will Moomin ever make it home safe and sound? A beautiful and boisterous story by internationally acclaimed children's author Tove Jansson, this picture book is sure to tickle the fancies of parents and kids as well as Moomintroll fans everywhere!
Weezer Changes the World (Hardcover) "Weezer is a cute little dog who does normal cute little dog things until one day he gets struck by lightning and everything changes. Suddenly Weezer can do extraordinary things. Then Weezer gets sick and it is up to everyone in the world to show him what they can do to change. The watercolor illustrations are comical and engaging.
Weezer Changes the World is not so much about how one person can change the world but how everyone together can make a difference if they really want to. This simple story grabs the great big scary world by the horns and tames it for young readers. It is meant to be read again and again as young children will gain more insight with each repetition." — Advice From a Catapiller. online
Only One You (hardcover) This is a story about a deep love that is shared between parents and their child. Sharing wisdom from one generation to another is so important.
As parents, our hope is that our words will be embraced and stored away until they are needed. I wanted this colorful story to be a springboard that allows families to talk about memories and life lessons with their children. There is certainly no more enjoyable close to a busy day than sharing a special story with your child.
By visually seeing these simple thoughts, together with fun, lively characters, children will make a meaningful connection and understand that they, in their own way, can truly make a difference in their own lives and in the lives of those around them. They will celebrate their own uniqueness.
Ancient Gonzo Wisdom Bristling with inspired observations and wild anecdotes, this first collection offers a unique insight into the voice and mind of the inimitable Hunter S. Thompson, as recorded in the pages of Playboy, The Paris Review, Esquire, and elsewhere. Fearless and unsparing, the interviews detail some of the most storied episodes of Thompson's life: a savage beating at the hands of the Hells Angels, talking football with Nixon on the 1972 Campaign Trail ("the only time in 20 years of listening to the treacherous bastard that I knew he wasn't lying"), and his unlikely run for sheriff of Aspen.
Oy Vey: More! The ultimate book of jewish jokes part 2 Hanukah Quizzes Matzo Ball Humor A Real Kosher Treat!
From rabbis to relationships, latkes to lawyers, and marriages to miracles, here is a feast of more than a thousand old and new Jewish jokes and witty anecdotes—and you don't have to be Jewish to enjoy them!
David Minkoff's Web site, www.awordinyoureye.com, has attracted attention and contributions from around the world. Containing jokes to tell children, a compatibility test for couples, and humorous quips for special occasions, his book is a truly unique collection.
"This clever kosher compilation generates giggles galore." —Publishers Weekly
"Terrific and addicting . . . guaranteed to make you laugh." —The Reporter (New York)
Portable Grindhouse: The Lost Art of the VHS Box Harken back to those thrilling days of yesteryear when the advent of rental videos astonished the movie-going consumer who could only feed his addiction by going to the theater or watching chopped up movies in between commercials on TV. Like vinyl, here is the revenge of another analog cast-off: the VHS is once again insinuating itself into American culture, and this book celebrates the anarchic design art of those early VHS boxes.
The Art Student's War In The Art Student's War, his sixth novel, Brad Leithauser has brought off a double feat of imagination: a keen and affectionate rendering of an artist as a young woman and a loving historical portrait of a now-vanished Detroit in its heyday.
The story opens on a sunny spring day as a pretty woman, in a crowded wartime city, climbs aboard a streetcar. She is heading home, where another war—a domestic war—is about to erupt.
The year is 1943. Our heroine, Bianca Paradiso, is eighteen and an art student. She goes by Bea with friends and family, but she is Bianca in that world of private ambition where she dreams of creating canvases deserving of space on a museum's walls. She is determined to observe everything, and there is much to see in a thriving, sleepless city where automobile production has been halted in favor of fighter planes and tanks, and where wounded soldiers have begun to appear with disturbing frequency.
Generosity: An Enhancement (Hardcover) What will happen to life when science identifies the genetic basis of happiness? Who will own the patent? Do we dare revise our own temperaments? Funny, fast, and finally magical, Generosity celebrates both science and the freed imagination. In his most exuberant book yet, Richard Powers asks us to consider the big questions facing humankind as we begin to rewrite our own existence.
"Powers can write lovely and heartfelt stories (he won a National Book Award in 2006), but he also has a well-deserved reputation for brainy fiction (he won a MacArthur "genius" grant in 1989), and "Generosity" may be his most demanding novel yet. It's told in a series of moments that run from just a paragraph to a few pages long, involving a triple-helix plot." – Washington Post
There Once Lived A Woman Who Tried to Kill Her Neighbor's Baby The literary event of Halloween: a book of otherworldly power from Russia's preeminent contemporary fiction writer
Vanishings and aparitions, nightmares and twists of fate, mysterious ailments and supernatural interventions haunt these stories by the Russian master Ludmilla Petrushevskaya, heir to the spellbinding tradition of Gogol and Poe. Blending the miraculous with the macabre, and leavened by a mischievous gallows humor, these bewitching tales are like nothing being written in Russia—or anywhere else in the world—today.
J
ustice: What's the Right Thing To Do What are our obligations to others as people in a free society? Should government tax the rich to help the poor? Is the free market fair? Is it sometimes wrong to tell the truth? Is killing sometimes morally required? Is it possible, or desirable, to legislate morality? Do individual rights and the common good conflict?
Michael J. Sandel's "Justice" course is one of the most popular and influential at Harvard. Up to a thousand students pack the campus theater to hear Sandel relate the big questions of political philosophy to the most vexing issues of the day, and this fall, public television will air a series based on the course. Justice offers readers the same exhilarating journey that captivates Harvard students. This book is a searching, lyrical exploration of the meaning of justice, one that invites readers of all political persuasions to consider familiar controversies in fresh and illuminating ways.
Death of Bunny Munro At turns dark and humane, The Death of Bunny Munro is a tender portrait of the relationship between a boy and his father, with all the wit and enigma that fans will recognize as Nick Cave's singular vision.
"Put Cormac McCarthy, Franz Kafka and Benny Hill together in a Brighton seaside guesthouse and they might just come up with Bunny Munro. As it stands, though, this novel emerges emphatically as the work of one of the great cross-genre storytellers of our age: a compulsive read possessing all of Nick Cave's trademark horror and humanity, often thinly disguised in a galloping, playful romp." —Irvine Welsh, author of Trainspotting
Stones into Schools: Promoting Peace with Books, Not Bombs, in Afghanistan and Pakistan (Hardcover) From the author of the #1 bestseller Three Cups of Tea, the continuing story of this determined humanitarian's efforts to promote peace through education
In this dramatic first-person narrative, Greg Mortenson picks up where Three Cups of Tea left off in 2003, recounting his relentless, ongoing efforts to establish schools for girls in Afghanistan; his extensive work in Azad Kashmir and Pakistan after a massive earthquake hit the region in 2005; and the unique ways he has built relationships with Islamic clerics, militia commanders, and tribal leaders even as he was dodging shootouts with feuding Afghan warlords and surviving an eight-day armed abduction by the Taliban. He shares for the first time his broader vision to promote peace through education and literacy, as well as touching on military matters, Islam, and women-all woven together with the many rich personal stories of the people who have been involved in this remarkable two-decade humanitarian effort.
The Wild Things The Wild Things, based loosely on the storybook by Maurice Sendak and the screenplay co-written with Spike Jonze, is about the confusions of a boy, Max, making his way in a world he can't control. His father is gone, his mother is spending time with a younger boyfriend, his sister is becoming a teenager and no longer has interest in him. At the same time, he finds himself capable of startling acts of wildness — he wears a wolf suit, bites his mom, can't always control his outbursts. During a fight at home, Max flees and runs away into the woods. He finds a boat there, jumps in, and ends up on the open sea, destination unknown. He lands on the island of the Wild Things, and soon he becomes their king. But things get complicated when Max realizes that the Wild Things want as much from him as he wants from them. Funny, dark, and alive, The Wild Things is a timeless and time-tested tale for all ages.
Sweets The first fiction effort from the legendary Andre Williams! Sweets is a narrative which takes you for a wild ride from Chicago to Houston, New Orleans, and New York City, as a teenage girl finds herself in a family way, without a family. Forced to fend for herself, she is taken under the wing of a local pimp who entices her into prostitution. The adventures that follow are a free-for-all foray through the fantastic world of pimps and their women, funeral directors, gangs and drug running, with sidebar anecdotes that are guaranteed to appall, alarm and astonish. Extreme entries remain unedited, and none of Williams' raw drawl storytelling style has been tampered with in this standout fiction debut.
Go-Monster, Go! MONSTER MANIA!
Rat Fink Wacky Wobbler by Ed "Big Daddy" Roth
"Like Wow Man, a Bouncin' Rat Fink Wacky Wobbler!"
During the hot rod craze of the 60's, no one made more of an impact on popular culture than the legendary car customizer Ed "Big Daddy" Roth! RAT FINK, Big Daddy's fly-infested alter ego and trademark was Roth's most popular monster. This is a special limited edition in metallic groovy green!
Cameron Jamie: silkscreen/ (unsigned) Destroy All Monsters exhibition poster designed by artist Cameron Jamie – a limited number of these are available from an edition of 100. This three color poster has a secret message scrawled in glow-in-the-dark green – just turn out your lights and turn on to a mystical light show that will liven up your secret cave.
Destroy All Monsters 'Monster Masher' Trading Card Set Each card deck consists of a complete set of 40 thick glossy double-sided 3×4″ trading cards, two buttons, two stickers, one Japanese monster toy, and two postcard checklists with descriptions and titles for each image, all designed for the 2009 Printed Matter exhibition "Hungry for Death." -each deck is numbered from an edition of 250 copies.
Also available is the 1975 Destroy All Monsters LP 'Double Sextet' and a reissue of the 'original primal stew' – the 3x CD set: Destroy All Monsters 1974-1976 . – also available is a new eco-friendly packaged reissue CD of Monster Island's first acid-folk release "From the Michigan Floor"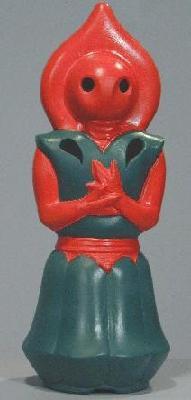 Flatwoods Monster Figurine (terracotta, votive candleholder) A wonderful artifact and folk art piece from the Flatwoods West Virgina UFO incident. This figurine and candle votive measures about 12″ tall and about 4″ wide at the base, it is fired clay and brightly painted. There are holes to emit light should you want to use this as an elaborate candle votive, by placing a candle underneath the sculpture and watching the light shoot through it.